Hi all,
I'm new here but wanted to share what we have so far on our pool construction. We started at the end of June. Excavation, plumbing, steel, electrical, and gunite all went smoothly. We are going to be delayed for another month, however..due to a change in tile selection. That's what happens when you decide on something and don't start for 9 months
We have been very pleased with our builder, Smart Pools. I had seen a couple of their pools in person while doing a tour of homes here.
When the pool is completed, we will most likely have someone maintenance for us. My mind doesn't relate well to chemistry but I'd like to learn at least the basics. This seems like a great place for info.
I must admit to not knowing a lot about all the equipment, but here's a listing of what we've got.
Intellichlor SWG
MPulse 3000 (for calcium buildup)
Pentair Sam lights in pool and spa
Paramount MDX in floor cleaning
Sta Rite pumps, filter, 400btu heater (I think we have 3 pumps?)
Intellitouch EZ 8 automation w/ wireless indoor remote and 4 button spa side
2 auto ig. firepots and 1 firepit next to built-in benches
10' stainless steel rain WF
3 glass lined uplit 'shadow boxes' on center feature wall (behind rain curtain)
3 side infinity Raised spa w/ 8 jets
8' wet deck
Wet Edge Altima white
We have 15 ft. from the edge of the patio to the back property wall. Our pool will be 10'6 - 15' wide where the pool steps cut in under the patio. We have 60' in length from where the spa starts to the sunken firepit at the other end.
We also have planned a deck area next to the spa, and on the opposite side, an outdoor kitchen and dining area.
I'm researching grills and trying to figure out my shade. Landscaping bids are coming in (yikes!) My goal is end of year for everything.
Here's a few pics so far (I only have video of excavation, no pics
This is the new selection of tiles. The multi-color rectangle mosaic is part of the delay. We're doing a custom using only 2 of the colors. Taking out the bright blue and silver. And I switched the waterline to the dark brown tile. I know, dark *and* textured. I've got my brush ready 8)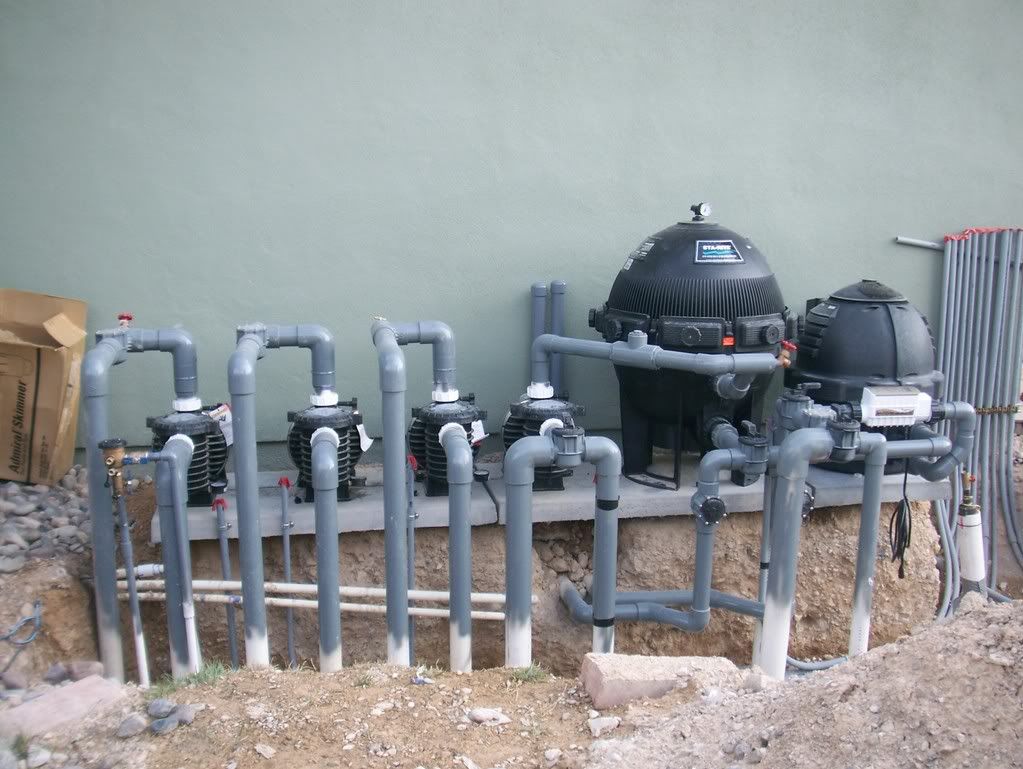 I have to finish uploading and I'll post the gunite pics. Then, sadly, it will be awhile before I have any more.