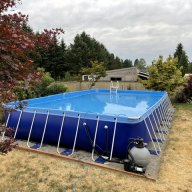 Jul 2, 2021
32
Pool Size

17415
Surface

Vinyl
I tried using an M200 on my above ground pool (30x18) and it just WOULD NOT pick up the dirt. I returned it. I think something was wrong with it.

I talked to a pool dealer here in my town and he told me that the in-ground vacuums have different brushes (made for hard surfaces).

I just picked up an Active 10 but honestly I hate the cable. A local dealer will sell me the Active 20 with a 15% discount. Then I can have the swivel cable. But then I'm back to using an in-ground vacuum for my above ground pool.

I'm a bit reticent to try it based on my bad luck with the M200.

Thoughts?