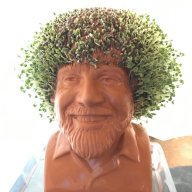 TFP Expert
Platinum Supporter
Mini man-cave work bench needs some under cabinet lights. Looking at LEDs. Strip-ribbon LEDs seem cheesy to me. I want bright, daylight temperature (4000K or better) and as many lumens as I can get (1500 lum or greater).
Wondering what others have done or feel are good brands to explore.
Mini man-cave workbench shot -
I'm putting a goose-neck lamp by the vise and each cabinet underside can easily hold a 24" long strip of lights so there's lots of real estate to work with. Nothing on the "peg board" is locked down so I can move anything around I need to to make the lighting work.
(And YES, it was intentionally cleaned off as the installer wanted me to send him an after-installation shot!)