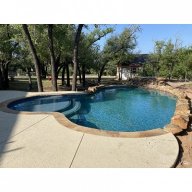 Jun 8, 2020
534
Pool Size

14060
Surface

Plaster
Chlorine

Salt Water Generator
SWG Type

Pentair Intellichlor IC-40
I finally got around to connecting my AquaCal SQ150VS SMART connection to the EasyTouch yesterday, and think I configured it all correctly. I connected a 10kOhm resistor to the Solar sensor terminals, and ran a 2 conductor wire from the heat pump to the BC terminals of the COMM port in the ET.
When Heat Pump mode is enabled, the heater responds to both heat and cool requests as expected, and the ET enables a higher pump speed due to me configuring a speed for the Solar circuit. All good here.
The only thing I can't seem to figure out is how to enable a button on the front of the EasyTouch, to control the Heat Pump mode being on or off.
Both the "Heater" and the "Solar" buttons are dead when in AUTO mode, meaning they don't do anything. In service mode, they both function normally, with the "Solar" button causing "Ht Pump" to appear in the LCD, and the LED to appear above the Solar button.
I can enable the heater by using the H Pump button in Screen Logic, and this works as expected
I can also do this from the ET panel, but have to dig into the menus, several levels deep, to do it.
When enabling through ScreenLogic, the LED above the solar button turns on, Ht Pump appears in the LCD, and if the water temp is below the heat set point, the heater begins heating and the circ pump kicks up. Same thing happens if the water temp is above the cooling set point.
I called Pentair support, but they were unable to help. After about an hour, they finally told me it's not possible and I need to use the app, or dig into the menus to enable/disable heat mode.
I'd really like a button to do this, and either the Heat or Solar button would be fine. This would just make it much easier for my family to turn on the heat mode when they want to prep for swimming a day or so ahead of time. I'd rather not have the heater maintaining th pool temp 24x7, when we're only swimming once a week, or even once every two weeks.
Here are the relevant config screens from ScreenLogic:
If there really is no way to configure either the Heat or Solar buttons to turn heat mode on/off, is there some creative way to get a button on the ET panel to do it? Maybe leveraging Spa mode (since I don't have a Spa), or leveraging an Aux circuit instead?
I know I could remove the SMART connection, and instead, use a 2-wire connection ... but then I wouldn't have a way to command the VSF pump to kick up in speed when the heater is heating or cooling, but only if heat mode is enabled ... and, this wouldn't work to control the "Cool" function of the heat pump either.