TFP Expert
Platinum Supporter
If you've been following the saga, we sold our last place (Heres the
POOL BUILD
) and purchased a new home. I don't get the privilege of building a pool here since it already has one but I do have a pool remodel planned down the road. Before I get to that I'd like to build a patio cover.
The cover will be attached to the house and have stone, stucco, tile roof, etc - Often called a California Room. This project will be a challenge because I'll have to work around the existing pool and plumbing, the existing concrete deck, structure of the house and in a very small backyard. I am also anticipating a struggle with a very strict HOA and City Building Department as well.
Here's what I have planned: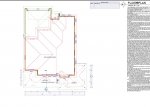 And here's what I'm working with...as you can see it's in desperate need of a covered space
I've just about got the plans wrapped up and I'll send them off the the Structural Engineer for approval and to the HOA for an Architectural review and neighbor approval (people are particularly concerned with their view being obstructed around here). Once those are done (I guess I should say IF), I'll send these off the the City to see about permitting it.
I don't expect this to be a quick process
Last edited: