We've been living in our new home for 2 years and signed our contract to build a pool a month ago They started the dig today after a 2 week delay due to rain. The specs are below and I must say, this forum has helped me tremendously with all of the little details such as coping, tile, etc.
19 x 39 freeform
3'6" to 6'6" depth
9 ft. diameter spa, 8 jets, with stacked stone spillover
beach shelf with 3 bubblers
low weeping boulder wall
~3.5 ft retainer wall along back of pool (our yard slopes down)
Coping and veneer on spa and retaining wall: Oklahoma field stone
Waterline tile: Rust
French Gray Hydrazzo
1050 sq ft decking, washed
Equipment (from contract):
Whisperflow 1.5 HP (one for pool, one for spa, and one for Polaris)
Polaris 480
400,000 BTU heater
Vision Sanitizer
RS4 controller
If I'm leaving anything out, let me know. I quickly skimmed the quote sheet and contract.
I didn't realize that they would hardly dig the shallow end.
They are going to be adding a lot of fill dirt around our pool! Our yard slopes down. We went with our builder's idea of having a retainer wall at the back of the pool. During heavy rains we have a lot of water flow at the rear of our lot.
Today they spent the day forming the pool. After you see today's pics, yes, it looks like an above ground pool. The plan was to have our pool flush with our patio. So, the back and part of the side will have retainage. There will be three 6" risers going down on each side of the pool.
With all that said, we have some concerns. Today we went out and measured the top-most form and it shows that the water line is what is currently flush with our patio, not the coping. My husband is calling our pool builder first thing in the morning and is going to have him come over to take a look. If anyone here can contribute with your thoughts, it would be appreciated.
Here are some pics from the first two days.
Design: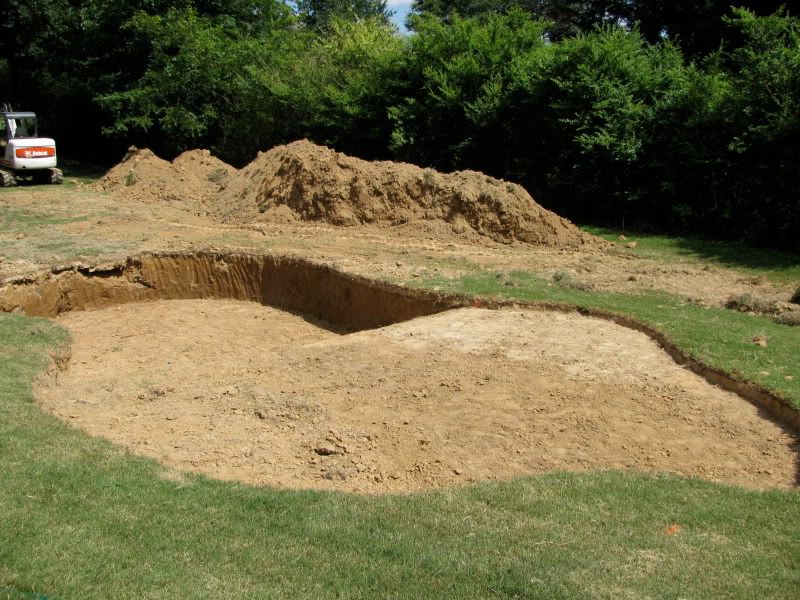 Hopefully you can see how our yard slopes down from our patio