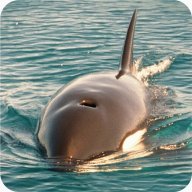 Nov 12, 2017
8,624
Pool Size

12300
Surface

Plaster
Chlorine

Salt Water Generator
SWG Type

Pentair Intellichlor IC-40
Is that really you? Is that really your pool? If not, what gives?
Why did you pick the crazy pic you picked?
Do you plan on sticking with it? How often do you, or will you, change it up?
And if you don't have one yet, why not? What are you waiting for?!?
I'll go first, because I started this thread primarily so I could brag!!
While in between dives in the Sea of Cortez, we happened upon a pod of Orcas. Everyone went crazy and jumped in to chase them around. Which only scattered them. I had a hunch I should wait, so I sat patiently on the dive step. Sure enough, one of the chasees circled around and headed back my way. I slipped in, chanting what someone had once told me "No Orca has ever attacked a human in the wild. No Orca has ever attacked a human in the wild. No Orca..."
She kept coming toward me, so I held my breath (literally and figuratively) and slipped under to get a better view. I had miscalculated. Just below her was her calf, and two more adults flanking the calf, providing protection, probably its aunt and uncle. So now I had four heading straight for me, three of which in full-on defense mode. Not having any experience with this particular situation, I just stayed still, to offer as little threat as possible. Just before they reached me, they all dove as one, and passed just a few feet below me. One of the most amazing things I've ever experienced. And what better to share with my fellow hydrophiles!
What's
your
story?