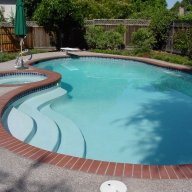 TFP Expert
LifeTime Supporter
They indicate that the meter can differentiate between salinity and TDS, which is nonsense.
Not entirely. I think they are just defining TDS differently. Each soluble has a different conductivity so you need to calibrate for the solution you are working with. I think they are just allowing the user to use that meter for two different solutions. One for 442 and one for NaCl. So they can switch back and forth without re-calibrating. I think the real issue is labeling.
I am using one similar to this:
Water Quality Tester, MagicPro 2016 Newest Released Premium TDS-2 Handheld TDS Quality Water Tester Meter 0-9990 ppm TDS Measurement: Amazon.com: Home Improvement
I bought it a long time ago and they don't have the exact model anymore. But it does do temp compensation which is a must. When calibrated properly it does match the SWG fairly closely. At least until the cell is near end of life.