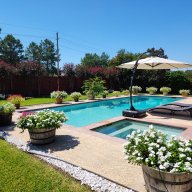 May 27, 2019
1,619
Pool Size

25000
Surface

Plaster
Chlorine

Salt Water Generator
SWG Type

Hayward Aqua Rite Pro (T-15)
Still working to get my TA down.

I started by reducing my TA using the Muriatic Acid method. I started at 90 and was able to reduce it to 65-70. The procedure in Pool School says to aerate. But later wisdom from the Forum says that aerating is not generally needed. I pulled my aeration method from the pool and continued. The TA was down to 65-70 (I have a diluted reagent to allow me to do 1 drop = 5 ppm TA).

Today, my water was back up to 7.9 pH. I checked TA; it rebounded to 80. I might have made some water additions, but our tap water is about 60 ppm TA. I've added maybe 2 inches of water, or about 750 gallons. That should only have raised my TA by about 2 ppm.

My pool: FC 11 ppm, CC 0.0 ppm, pH 7.9, TA 80 ppm, CYA 80 ppm, Salt 2900 ppm, BOR 25 ppm, temp 90F, CSI 0.18

I added a gallon of MA to get the pH and TA down. Readings are now pH 7.1 and TA 65. I've now added 1 qt of MA to get it down to pH 7.0 and TA60.

Should I be aerating like the Pool School article or not? My goal is a TA of 55-60, and then I'll add 25 ppm of borates using boric acid.
Last edited: