Hi TFP people, first post.
I replaced a failed no brand mechanical timer which came with my SWG, a couple of years ago with a German made Grasslin. Identical clock except that the first clock had I think, four terminals and the Grasslin had five. I was very careful to keep the wires in the same order and wired them 1 to 4 and left the 5th empty. I'm not sure when it started but the replacement clock lost time every day.
I got a replacement Grasslin clock under warranty (the original wasn't sent back for testing), but it seems odd that the Grasslin didn't last nearly as long as the cheapo version. so I'm wondering if my wiring was wrong.
So my questions are:
1. Would an incorrectly wired clock run slow or would it just not run at all?
2. Should I perhaps have skipped the 4th terminal and wired the 5th?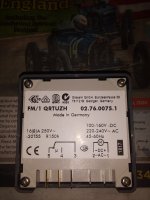 Leaflet which came with replacement timer:
Last edited: