Hi All,
First I'd like to thank all of you for all of your help over the last months. I have lurked around, asked a question or two and learned a lot.
We moved into our house 4 years ago and wanted a pool from the start... but it was not that easy. The house sits on .67 acre of land with a 1:10 slope over most of it. It is on septic that is pupmed to the top of the hill. Between the septic lines and the future 'reserve' lines we must keep free for future use, there was not much space left for a pool. A real shame. As you'll see in the pictures the pool is pusher right up against the house -- this was not by choice -- it was the only option.
I spend a few years researhing septic systems, hiring engineers, drilling test holes, etc. I tried to get a sepage pit permitted for the reserve. This takes less space than traditional leach lines, but is a lot more expensive. I figured in 40 years when the main field fails and the reserve needs to be installed I'll probably not be in the house to pay the $$$. But karma got me and it didn't quite make the limit for perk and that was off the table.
After that I gave up for a while and then re-visited the leach line solution. I pushed and pulled and squeezed and found a way to re-permit the reserve and leave a bit of room for the pool. So I drew up the plans, interviewed three companies, and we're off and running.
The pool is about 17 feet wide and about 36 feet long free-form in-ground gunite pool. It is placed high relative to the house behind a retaining wall. I don't like this much as we see a wall from the house and not the pool.... but it was that or nothing.
It has 40% of its deck 2 feet high to conform to the natural grades. It will have a 6' diving board and a 7'6" diameter spa. I'll upload a plan of the pool in a day or two.
equipment:
- One Pentair IntelliFlo VS-3050 pump for pool and spa
- Pentair 60 sf fiberglass D.E. filter (FNS Plus)
- Pentair Intellitouch i7+3 automation (for future low voltage lights and macros)
- Pentair Natural Gas Heater (minimax or mastertemp - I forgot) 400,000 BTU
- Pentair Intelichlor (IC40)
- Poolshark cleaner
- normal incadencent light
The spa will have a spill-over to the pool, 8 jets allthe way around (2 set of stacked and 6 singles).
I'm looking at an enlarged second step and a small third (deepest step) to maximize room and have a baja-like entry. More to come on this as it proceeds.
So here are a fre pictures:
first, the view from about 15 months ago. Nothing but drainage goin in here: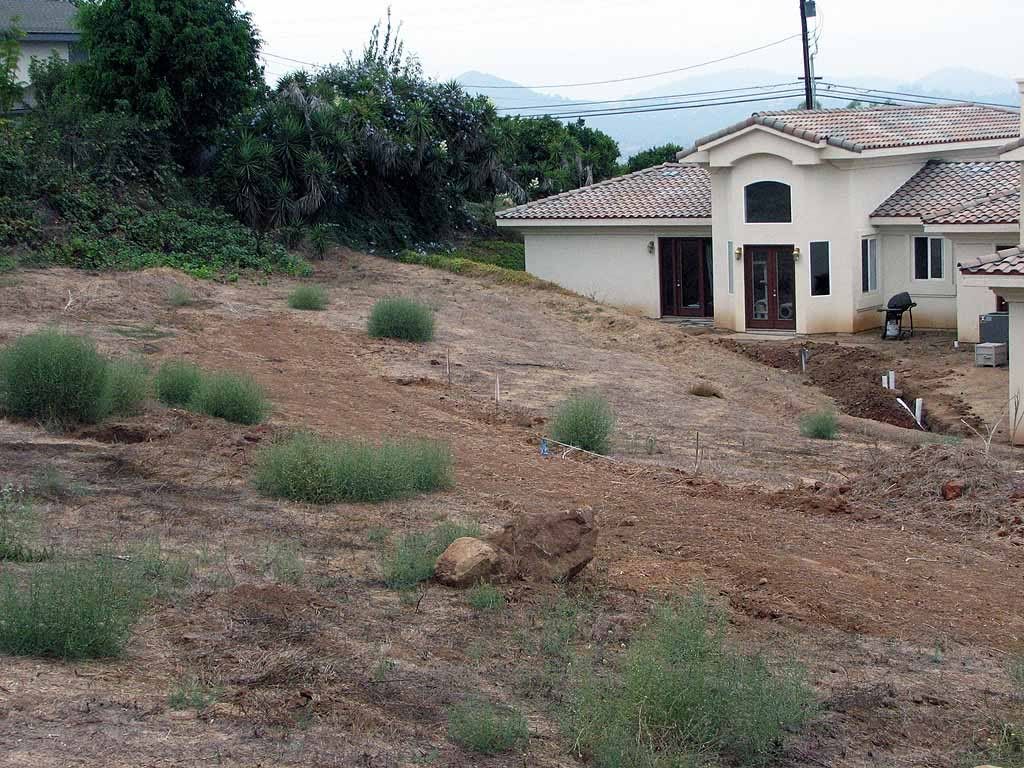 Then the pool was staked out: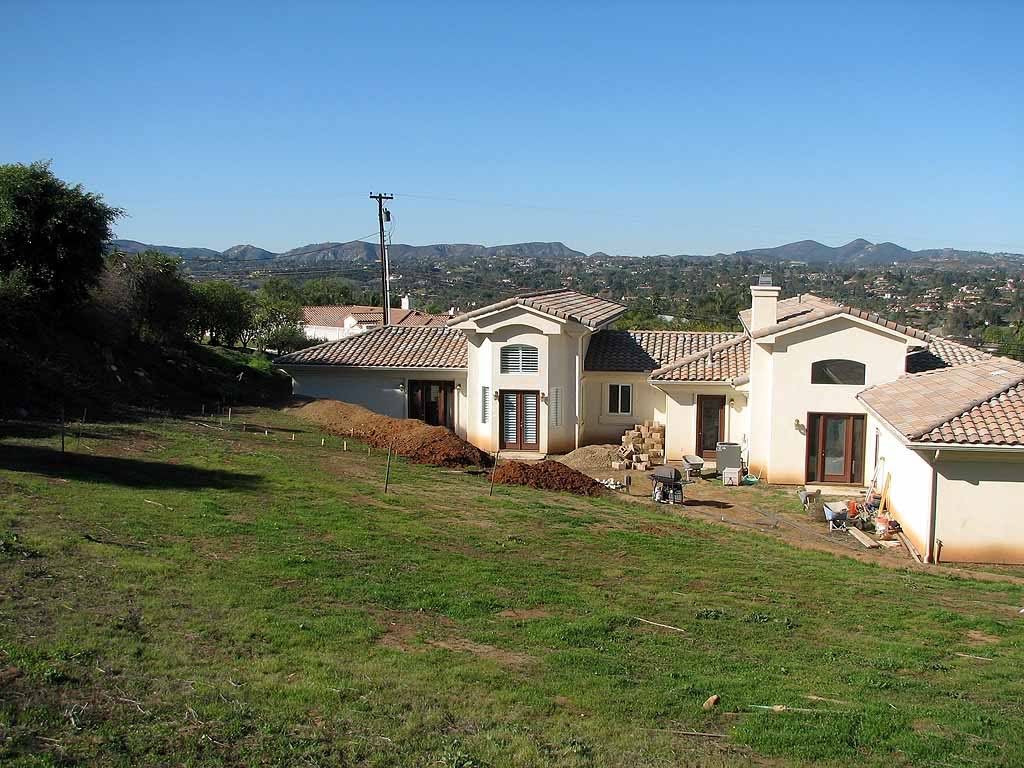 Next the retaining wall had to go in. Hmmm a little closer to the house than anticipated....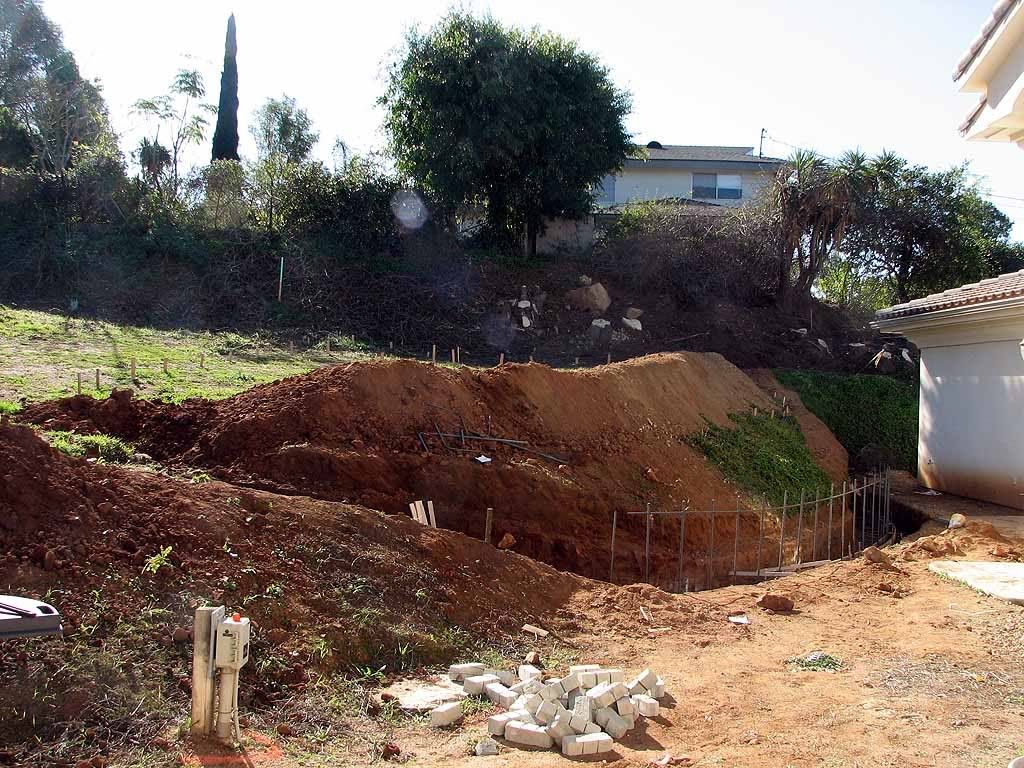 A few picture of the finished retaining wall: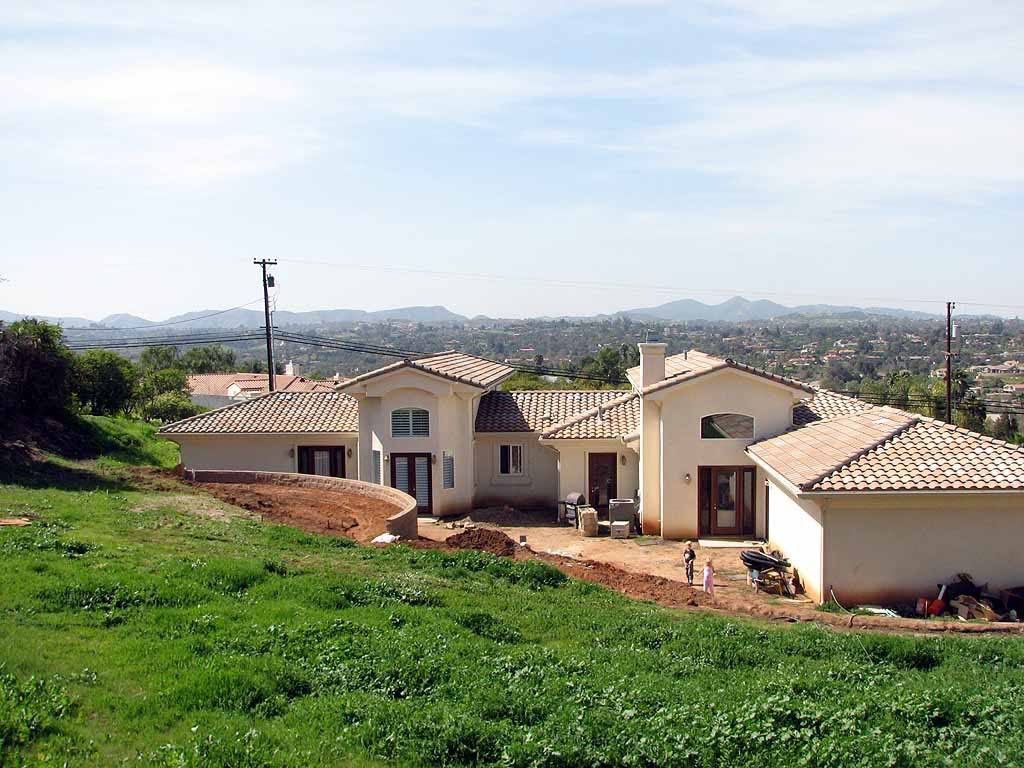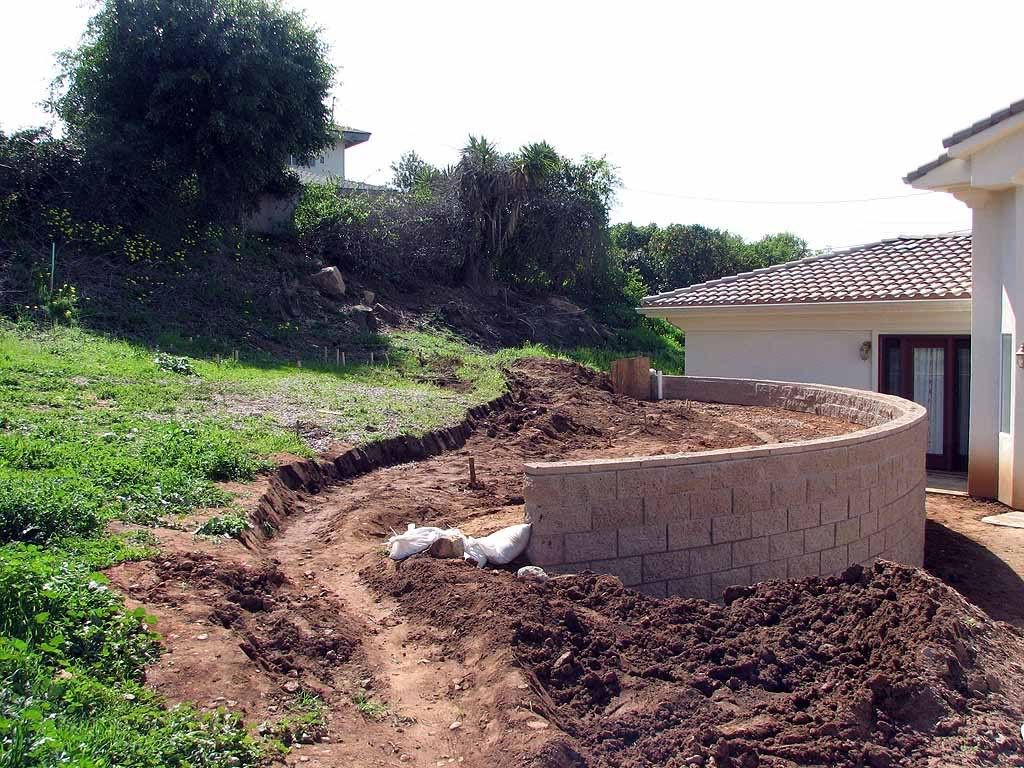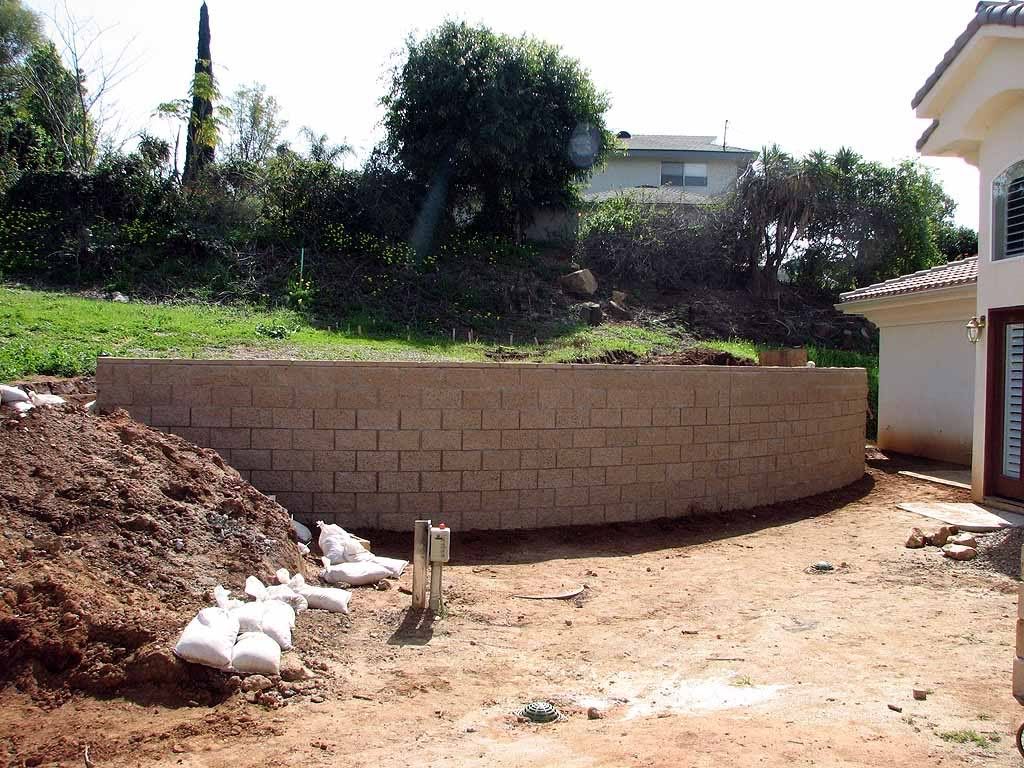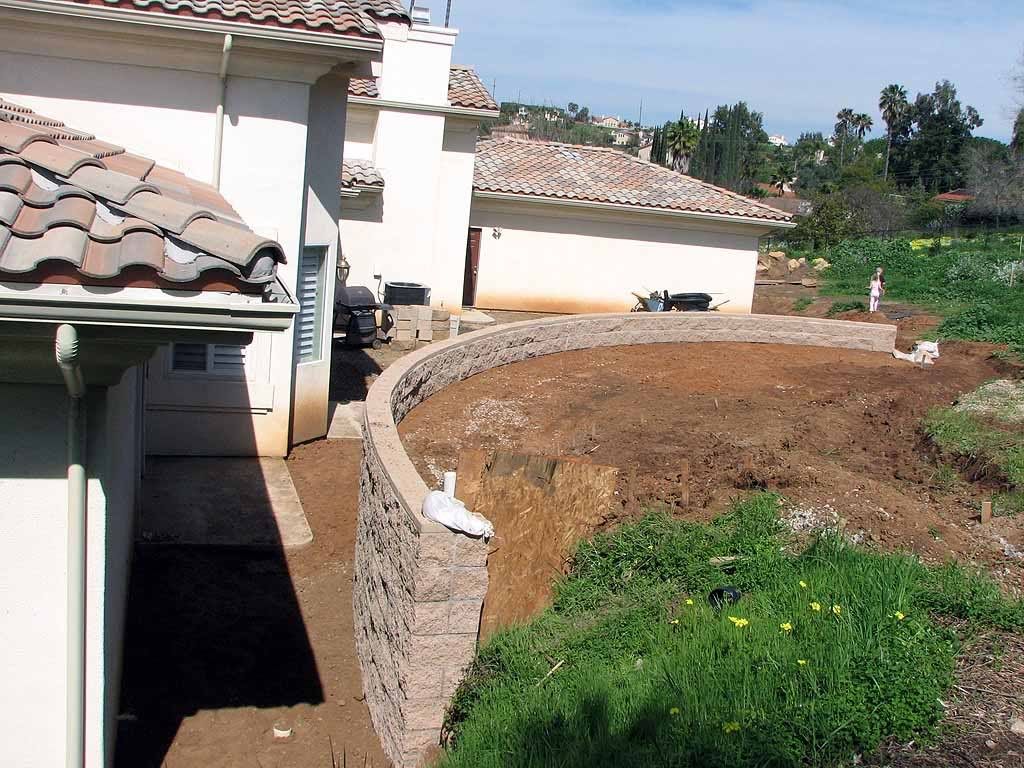 Now, last Monday(March 3rd), Tuesday, and a little into Wednesday the hole was dug.
Notice the vein of rock through the spa and deep end. Good thing I negotiated for unlimited digging time! It was fairly soft rock, as rock goes and no blasting was required : )
And here's the finished hole: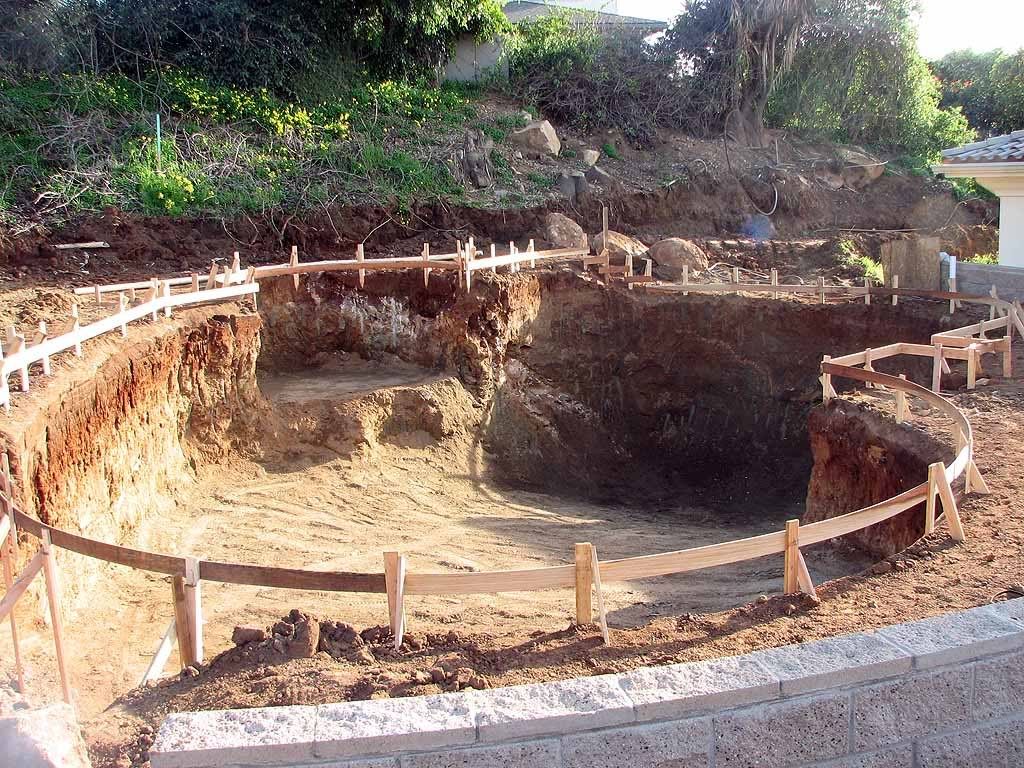 I had a few rocks moved from another area of my yard to the far side of the pool. Now I just need to figure out what to do with them. ( I hope they are movable! They are very heavy and a bobcat can't get to them where they are now.):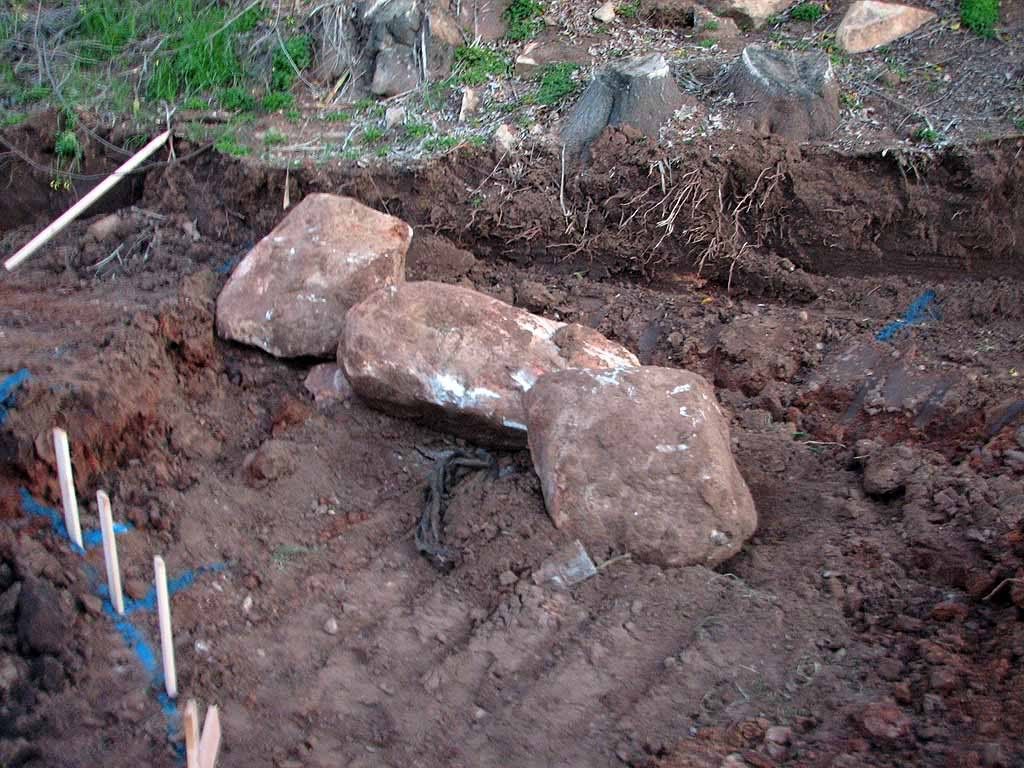 I plan to try to instsall a heater bypass to keep the pump as efficient as possible (mixed reactions on this previously in the forum).
In spa mode, the pump will fire into high gear and a valve will open to route some water through the heater and the rest through the jets. At high speed, the pump would blow up the heater without this dual-path flow. I'll have a manual valve to set how much water get diverted. My pool guy figured this out and spoke with Pentair -- they couldn't think of another way to do it with one pump.
I'll keep you all posted. I'd love your comments and ideas. Steel goes in Monday (3/10) and Tuesday and the pool gets shot on Friday or (more probably) Monday (3/17).
Steve