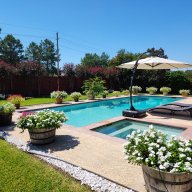 May 27, 2019
1,619
Pool Size

25000
Surface

Plaster
Chlorine

Salt Water Generator
SWG Type

Hayward Aqua Rite Pro (T-15)
I bought a Triton PS Plus but one of my buddies moved to a house without a pool so I inherited his Dolphin Nautilus CC Plus.
The CC Plus uses two little filters with two different openings in the bottom. The filters have a little frame and 2 panels each. They do not hold much in each frame. Is this the older design or just different.
My Triton PS Plus has a BIG internal basket with a frame and 4 panels.
The big basket seems to hold more leaves and debris. Any thoughts on this. The "New" Nautilus CC (no Plus) looks like it is the same design as the Triton, or a variation thereof. Just a different color. I also don't think it is PS aka Powerstream (Those openings on the sides).
Anyone. Bueller? Bueller?