I am trying to help my neighbor clear her pool. She has a vinyl liner 26,000 gal pool. Cartridge filter and Trinton whisperflow pump. Her old pool guy has a blue mineral unit in her filter basket, which I had never heard of until I Googled it. She has also shocked her pool a few weeks ago and it did nothing but turn it a bright green color. I am trying to find a place in town today to test her copper levels after reading several threads on here about high copper. Plus some of her blonde daycare kids hair turns green or did last season. So thats why I am suspecting high copper?
We are started SLAMING yesterday. I had her bring up her cya to 40 first a few days ago, now we are keeping the pool at shock level of 16, her cc's is .50,
TA 140
CH 50
PH 7.2.
CYA 40
I have her filter running 24/7. Here are pics of her pool. Can anyone help me identify the stains on the stairs? And I should I be doing anything else?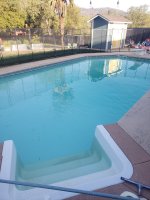 I cleared my pool years ago with this method and haven't looked back but I don't have a ton of experience. Thanks so much!