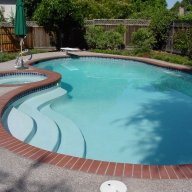 TFP Expert
LifeTime Supporter
May 3, 2007
14,729
Pool Size

20000
Surface

Plaster
Chlorine

Salt Water Generator
One lead to the railing anchors and the other to the water. I tested the entire pool this way and it only spikes at the pool corner in the shallow end where the railing anchors are.
There may be a path to ground in that location.
Have you ever checked the pool for leaks?
Did you see them bonding the pool walls when the pool was built?