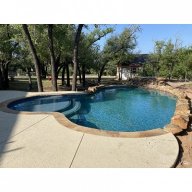 Jun 8, 2020
494
Pool Size

14060
Surface

Plaster
Chlorine

Salt Water Generator
SWG Type

Pentair Intellichlor IC-40
Wednesday, the excavator arrives to begin our IG pool install. The builder originally spec'ed a pressure cleaner, but I had them remove it and plan to purchase a robot instead.
So as I plan through this, I want to be sure anything I need to be in place for the most convenient setup is identified before it's too late. For example, if I need to add a wire chase, or bury romex, under the where the decking will be poured, to get an outlet in a good place for the robot.
We are going with a Pentair EasyTouch 4P, but I'm not sure what robot to go with. For control, is it best to have an outlet dedicated for the robot, and controlled through a relay on the EasyTouch? Or is it best to have the robot always receiving power, and using the robot's scheduler for cleaning?
In terms of the outlet, I understand the robot's control box plugs into the outlet, and the robot then plugs into the control box. Should I plan to build a weather proof enclosure for the control box, so it can be left in place?
I asked the PB about installing a pool-side outlet, maybe behind the boulder coping on the long side, and he said it must be a min of 10' from the waterline, and would cost be an additional $500 to do it. In the image below, the dotted line is a 10' PUE easement, which means I wouldn't be able to put an outlet back there. So I said nevermind, as I am perfectly capable of doing this as a DIY project as long as I don't need anything inside the concrete; But I want to be sure I plan it correctly.
Here is the 3D view of the pool design:
And here is a rough layout of the area:
I was considering having the robot controller installed at the equipment pad, in something weather proof, but then thought the cord probably isn't long enough and the controller will probably need to be closer to the pool.
So then I thought about putting an outlet at the decking edge, between the pool and the equipment pad, ensuring 10' from the waterline, and running the romex back to the equipment pad for connection to the EasyTouch. But then the robot controller would be on the decking.
Notice I have an existing outlet under the patio cover, but I'd prefer not to have cords draped across the patio/decking.
So I'm looking for input/advice on how best to plan for a robot install .... What would you do?
Thanks!