Jan 21, 2014
1,072
Pool Size

20000
Surface

Plaster
Chlorine

Salt Water Generator
SWG Type

Pentair Intellichlor IC-40
Let me start by saying I have nothing to compare the Z5 to other than the "free" manual vacuum that my pool builder provided me. I haven't used any other current gen pool cleaner. This is an unsolicited/unpaid/honest review. Also...I squeak when I walk...if you get my drift.
My review of the Z5 starts with the
purchase
, I chatted with a support person on Epic's website, they gave me a coupon code "Dolphin100" which brought the price down to 1299. This was about 400.00(before Mail in Rebate - 300.00 after) less than the M5 would cost me (no local dealers and shipping/tax was horrendous). The purchase was simple, as easy as buying anything on the internet should be. I ordered on a Sat, it was shipped on the following Monday, and I received it that Thursday.
Packaging
- Packaging was appropriately sized and well thought out (came from Maytronics like this it appears). I had to open it before the pic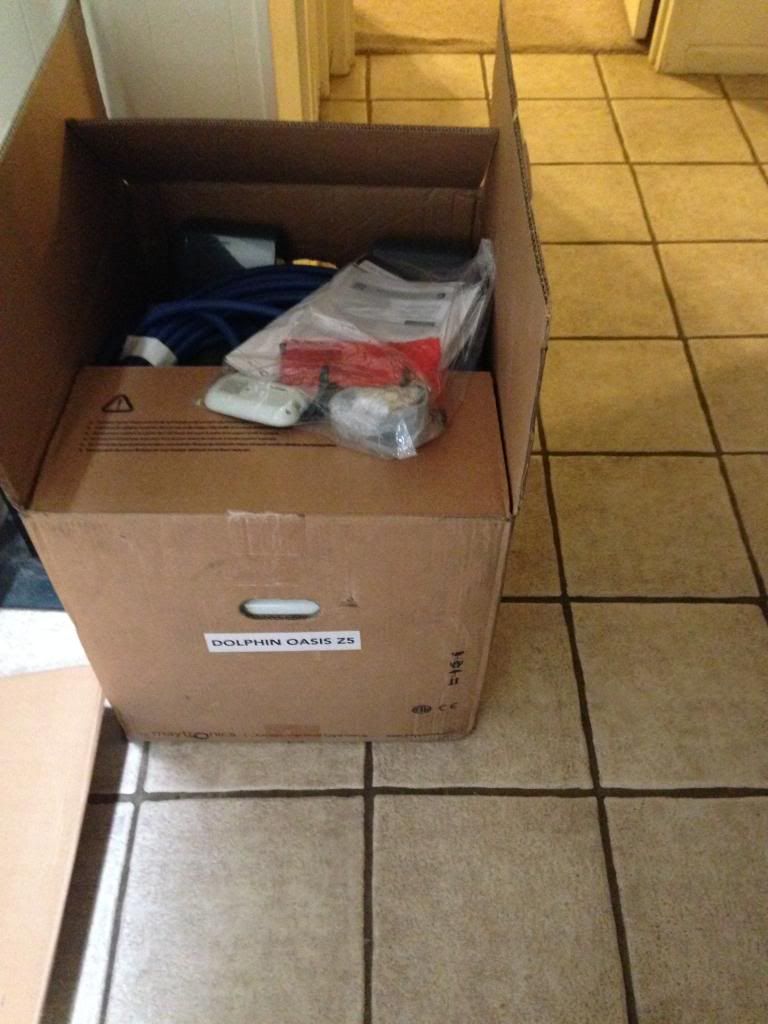 Assembly
You have to assemble the cart/dolly. It takes a few minutes with a screwdriver. It's simple, and there's even instructions. On the Robot itself there is no assembly, unless you're like me, and you wanted to change from the screen filters to the ultra fine dirt picker upper filters. There was some plastic around the foam sections of the brushes (they feel like magic erasers once wet). Once you have that done it'll look something like this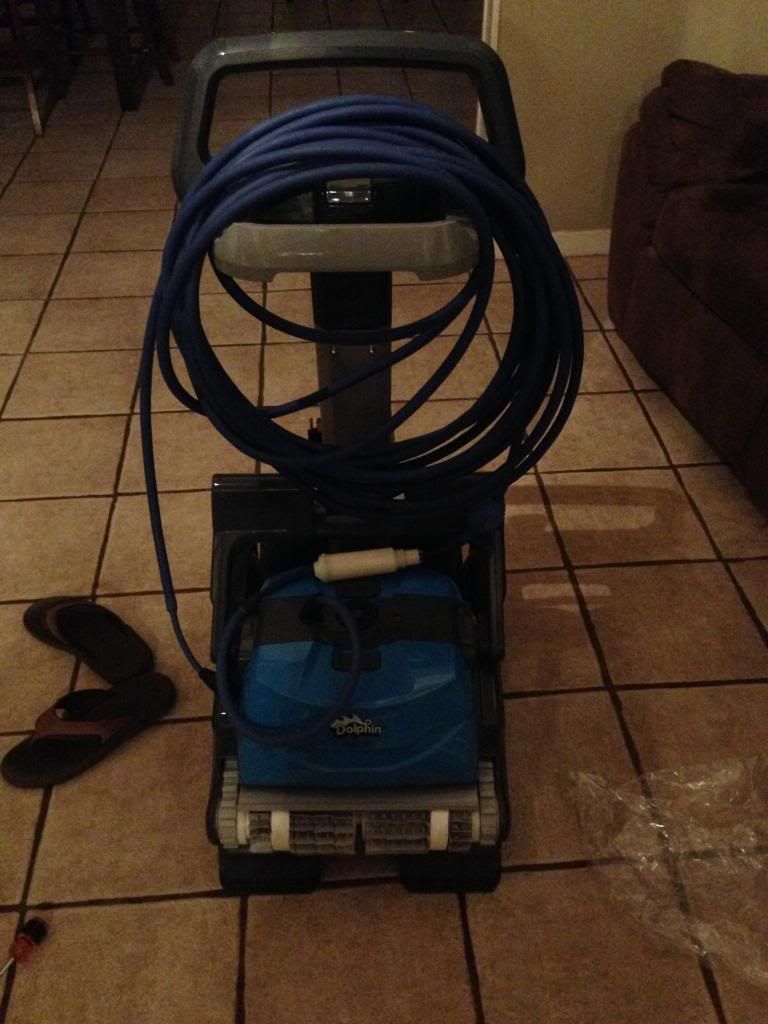 Cleaning
- The important part. How does this thing clean? Well I can only compare it to my manual vacuum. But compared to that, it rocks. My Vacuum had tons of suction (2hp pump moves some water). The head was poorly designed and it left a lot to be desired. I don't have a leave/stick problem in my pool. It's dirt dirt and more dirt. (I live in the Desert). Here's an image from the first cleaning. You can kinda see the reverse snail trail. It had made two lines there. Look between the robot and the main drains. there's a line I swear lol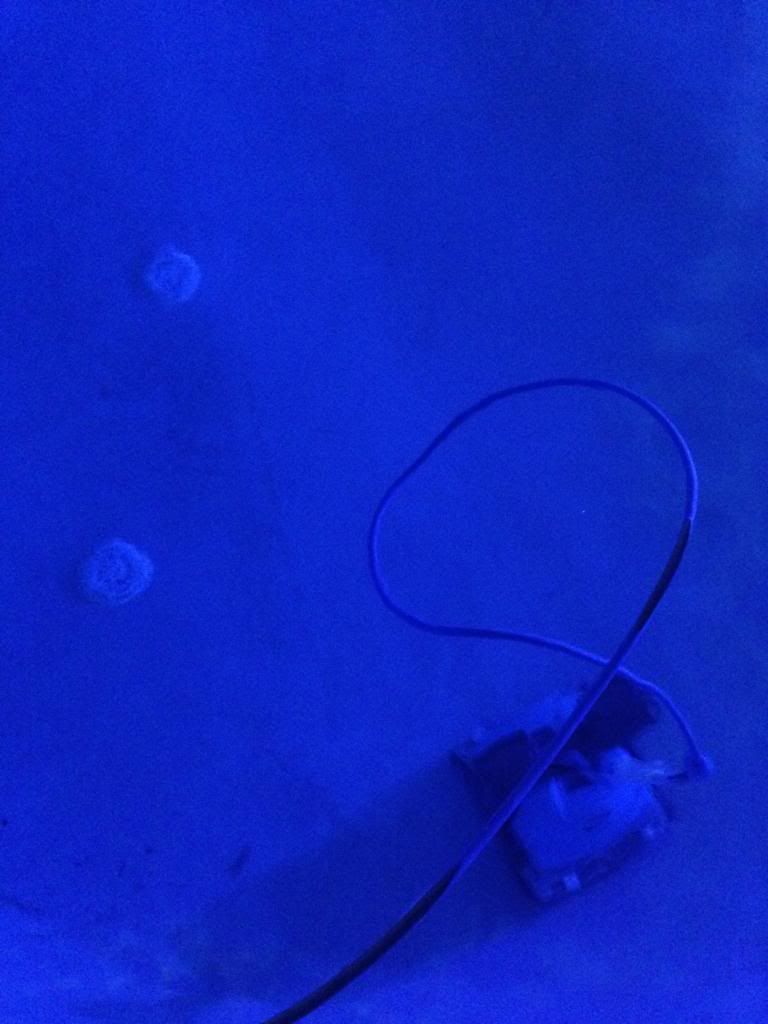 It is able to climb all the way up to the tile line and it even works my bench/baja deck over.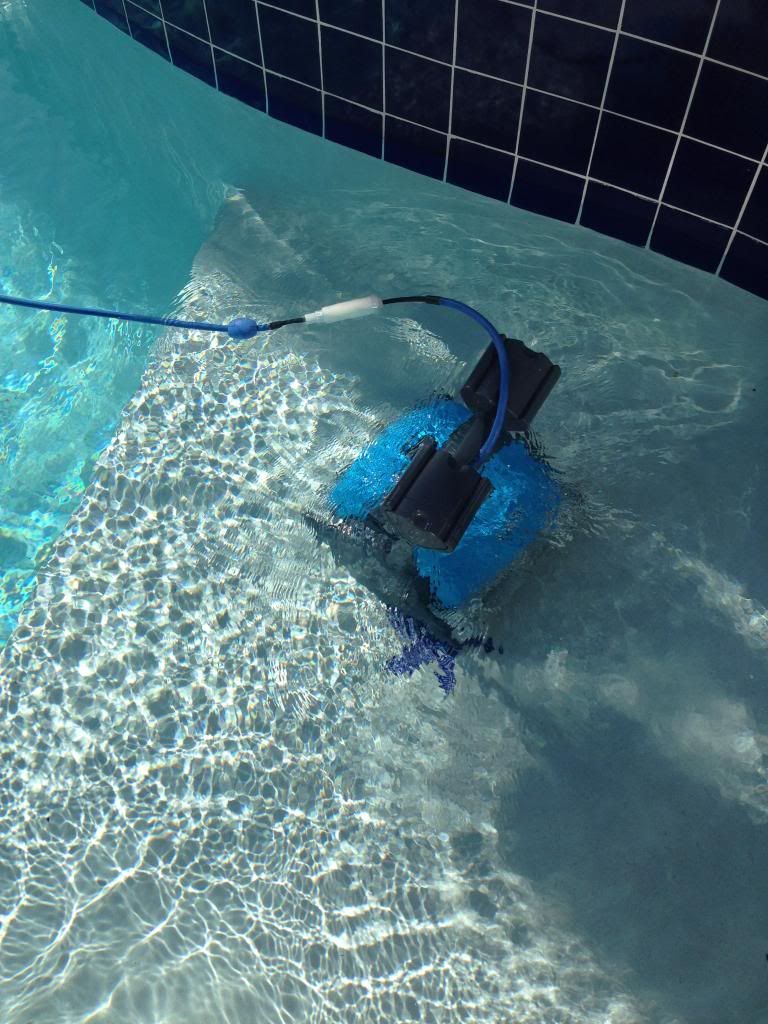 This was all on automatic, I didn't force it to climb up there...
It climbs up my bottom two steps but won't go on the top step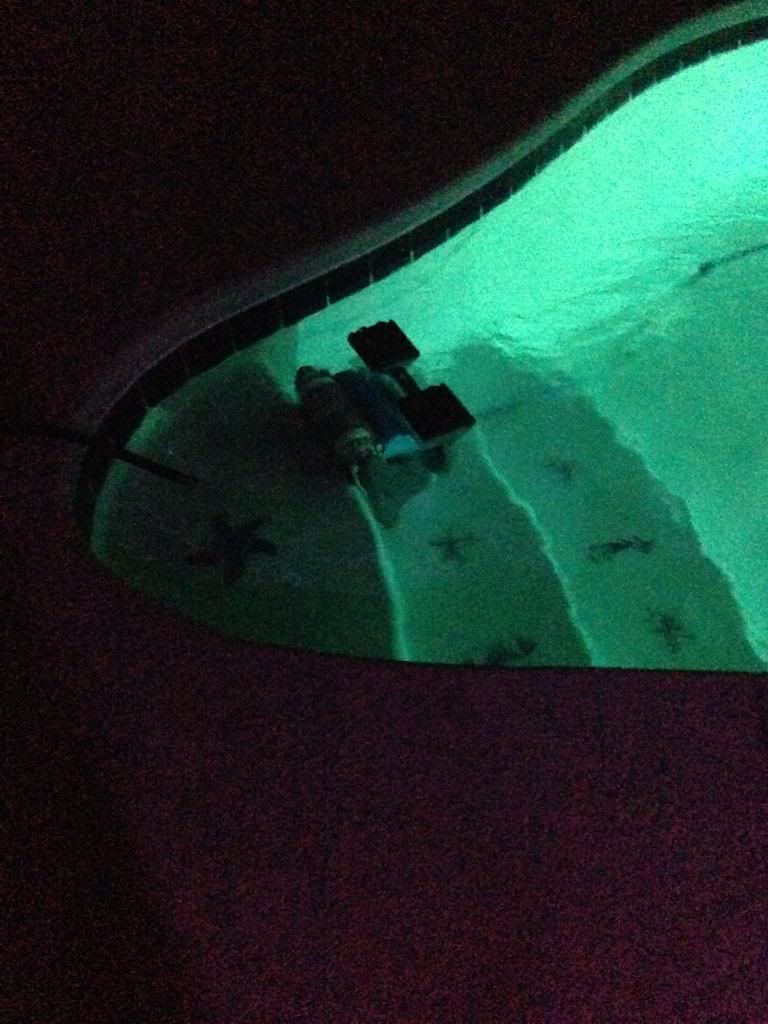 It picks up all sorts of crud
Cleaning the robot
- This Couldn't be more simple (or maybe it could, but I doubt it). You spray out the filters and you're done. It's a simple procedure that is rather effective.
Conclusion
- I highly recommend this robot to anyone who doesn't want to mess with manual vacuuming, especially if you have a "dirt problem". Any questions, feel free to ask. I'm pleased with this thing. If it lasts, I'll remain a happy camper.