Hi everyone,
We're putting a new liner in - as part of that, going to refresh the return fittings, skimmer surround, etc.
I've got a return in my fiberglass steps, which has always had a leak. Water from the pool leaking behind the return flange, confirmed with dye - and has been fine for years with some jb weld water weld surrounding the return.
As part of refinishing the steps, I desired to fix the leak by replacing the flange and gaskets if possible.
The return broke in the process of unscrewing it - very brittle to be sure.
I'm a bit stuck now, and looking for advice on how to proceed.
The return is this style - though I have no access to the back retaining nut, since it's under the concrete deck.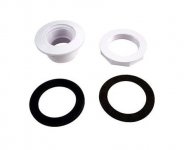 The flexible supply pipe is glued to a PVC fitting with external threads that sits behind the wall.
You can see this fitting in the image here - and this appears to be in fine shape.
The flange fitting screws into those threads.
My approach would be
unscrew the old fitting, would likely need to crack the retaining nut to get it free.

currently, since the fitting is broken, I can see the retaining nut behind the stairs wall, it's almost like it's glued to the flange, since they move together when turning. It doesn't appear that these were ever tight enough to sandwich the stairs wall, nor is there any evidence of an internal gasket. There was a gasket on the outside, I've removed it.

use the new flange fitting, with a new gasket and silicone sealant between it and the wall of the stairs.
this would be screwed into the existing external threads on the supply pipe - tightening his would get it quite tight to the fiberglass, essentially how it was before.
if I'm still experiencing the leak, again I would use the JB water weld to surround the fitting.
Any thoughts on this? let me know if I can add any more clarity.
Would very much like to avoid having to break up the deck concrete.
Thanks very much - appreciate your time.