Hello All!
I've only been a member for a few weeks and this is my first time posting but I would like to start by saying Thank You to the site creators, maintainers, moderators, and especially to the members who have contributed so much valuable information in one place. I have already learned a lot and gained some very valuable insights just by searching and reading various threads.
My wife and I have only been pool owners for about 4 yrs now. Truthfully, we didn't even know we wanted one until our friend (and realtor) insisted that we see our current house while we were looking back in 2016. She fell in love with the sunroom and I the pool. I'll spare you the rest of the backstory but we are currently, thanks to a wind storm and large fallen tree, in a position to do a major renovation on our pool. We have looked at dozens of finish/tile choices and think we have it narrowed to our final picks. I'm hoping I can throw a couple of pics up here and get some reassurance that we're not crazy (or some suggestions if we are) when it comes to the matching or contrast as neither of us are designers. Thanks again for taking the time to look/comment.
Our current state (the previous owners painted the dark plaster bottom light blue - not us)
Our current front runner for finish - WetEdge Aruba -
Wet Edge | Products | Aruba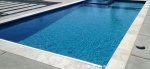 and current choice for waterline tile - NPT Quarry Ridge Blue -
Tile Series: Quarry Ridge | NPTpool.com
Any feedback is welcome even if it's just "are you nuts??" or "those should look great together!" and anything in between.
Thanks again to everyone here that plays a part in making this site/forum/community what it is - I'm very pumped to have found it and hope I can give back myself someday.
-c