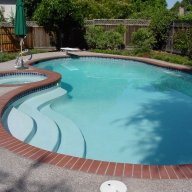 TFP Expert
LifeTime Supporter
May 3, 2007
14,175
Pool Size

20000
Surface

Plaster
Chlorine

Salt Water Generator
If anyone is interested, I found this on Ebay:
DISHWASHER RINSE CHEMICAL DOSING PUMP 110V | eBay
Bought one a couple of weeks ago and it has been working pretty well. It has a a water resistant housing, speed control and a geared drive so very low speed is possible. Lifetime is TBD but it does the job.
I think the seller has more than one left because one was left when I bought it too.