The heater works fine, but I can't see anything on the LCD. I took things apart just to see model numbers before I am ordering and want to make sure I get the right part. I DO NOT want to replace the entire board, just the LCD, as the heater is working just fine (we only use it for the spa).
I found this part on Amazon, is this the correct replacement?
Amazon.com: Raypak 013640F LCD Display Pool Stat-Kit: Garden & Outdoor
I am attaching photos of the LCD and board for extra clues.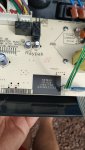 @ps0303
seems to be the go-to guy for this. Thanks in advance. Now I need to find the model of my intermatic timer that eats OFF dogs.