So I've been searching around and I am sure this has been addressed somewhere on the forum already and if so I'm not finding it. I'm trying find out what the effect of the constrictions in fittings and equipment have on flow rates. I imagine a short narrow run is offset by the Venturi effect if the constriction isn't too dramatic. What got me thinking about it is I got a used replacement pump for my waterfall and it had these kind of fittings on it.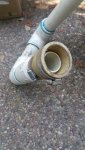 so a 1.5 inch pipe was constricted down to the size of a 1.25 inch pipe for about 4 inches. And again on the out flow from the pump. And a basic 2" ball valve I was looking at constricted down to the same diameter as a 1.5" pipe. It made me wonder how narrow and how long a constriction it takes to affect the flow rate and by how much when going through those types of fittings, Ball valves, check valves, etc.
And as long as we are at it what effect does right angle turns in the piping have compared to two 45 deg turns or sweeps.
Things that make you go hmm.