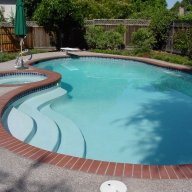 TFP Expert
LifeTime Supporter
After seeing several questions on pool pump efficiency and energy cost comparisons, I thought it might be helpful to put together a simple spreadsheet that allows a pool owner to compare the costs of several pool pumps. This spreadsheet uses the data from the California Energy Commission
web site
which shows the energy efficiency of many different pool pumps.
Warning!

The following pumps seem to have errors in the database so do not use the profiles for these. Once the CEC fixes the data, I will post an update.

WFE-2 - Curve-C watts appears to be incorrect. It is too low.

WFDS-3 - Curve-A watts should read 1570 not 1750.

WFDS-4 - All of the wattage data is incorrect. It should be the same as WFDS-26.

WFDS-8 - Curve-B watts should read 1874 not 1784.

CHII-N2-2-1/2A - Curve-C Wattage is incorrect.
Testing Documents
http://standards.nsf.org/apps/group_pub ... %20CEC.pdf
http://standards.nsf.org/apps/group_pub ... nt_id=8332
A pump cost comparison spreadsheet may be obtained from this web site:
Energy Efficient Swimming Pools