At the behest of another member here, I thought I'd post this and see if what I was seeing in the Pool Math app is a known issue, a one-off, an undiscovered issue, or whatever.
I was combating some algae a few weeks ago and, in so doing, I discovered that my Pool Math app was showing me an odd SLAM FC target. Has anyone seen anything out-of-sorts in a similar fashion?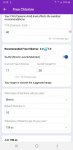 With a CYA level of 40 ppm, my understanding is that, according to FC/CYA charts found in Pool School and in other areas on this site, my SLAM FC target should be about 16 ppm. The app, instead, shows 28 ppm as a target.
Any thoughts?
Thanks!