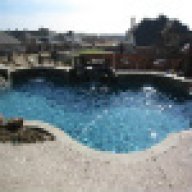 Platinum Supporter
LifeTime Supporter
All, this site is fantastic and all of the help you have provided me has been second to none. it's MUCH appreciated. quick question:
according to my test results last night:
FC 6.5
CC 0
TC 6.5
PH 7.5
TA 100
CH 300
CYA 70
TEMP 84 (after rain)
Salt 3330 (new test strips)
pool school says that based on my CYA i have a target FC of 5 but when i enter the information into the pool calculator (which i may not be doing this correctly) it's telling me that i have a FC range of 5-10. i've read on here that the PC may overstate the target from a shocking the pool perspective but is this the same from a FC perspective?
Thanks for any input.