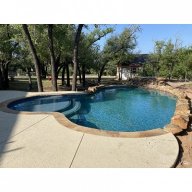 Jun 8, 2020
494
Pool Size

14060
Surface

Plaster
Chlorine

Salt Water Generator
SWG Type

Pentair Intellichlor IC-40
We filled our pool last Thursday night, and I started up the equipment and began balancing the chemistry ASAP, following TFP guidelines as much as possible, while remaining within the PB's requirements for warranty as well.
Initial tests after the fill completed were:
FC: 1.5 (yes, my fill water had 1.5ppm chlorine!)
CC: 1.5
pH: 8.2
TA: 160
CH: 175
CYA: 0
And over the past 4 days, I've been working on balancing the levels. Using 10% bleach/LC, added 20ppm CYA, added 8lbs of calcium chloride, and when pH reaches ~8.0, I add MA to lower it to 7.2 (to also lower TA), then run the waterfall to raise pH back to ~8 and add more MA (repeating) ...
I've gone through 1 gallon of 31.45% MA and just about 3 gallons of 10% LC. I'm also using Trichlor pucks in the Rainbow chlorinator, to help keep FC up and reduce the amount of 10% required, but also to add CYA until I hit 60ppm.
My current water chem this AM is:
FC: 4.5
CC: 0
pH: 7.5
TA: 100
CH: 225
CYA: 20
I have no idea what time the PB tech is scheduled to arrive, but the voicemail they left yesterday said "You don't need to be there for this appointment. We will start the equipment up, and add chemicals to your pool" ..... ! No thanks Mr. PB! Please just drop off my manual vacuum and pool brush, so we can clean it
Luckily I work from home (since 2010 actually), but just in case I miss him pulling up, I added this to my panel ... think it'll stop him from doing something before I can catch him??
I do have a 100+lb dog with a deep bark ... Maybe I should just leave her out so the tech stays outside my fence until I bring her in ... it's like an old-school property monitoring system