Sep 3, 2018
1,163
Pool Size

17000
Chlorine

Salt Water Generator
SWG Type

Pentair Intellichlor IC-40
We had a few issues with our plaster after it was done in the spring. One being a chunk came out in the spa bench. We also found some really rough areas in the pool once it was warm enough and we could finally get in. We decided with our plaster company to wait until fall to fix it so we wouldn't have to drain it during the summer. It is now the time. They are coming to drain it tomorrow then coming to do the work Thur. I know I don't want them to acid wash it. I can't see how that would help with the rough areas anyway. They haven't told me yet what they will do but I want to be prepared with options. I've read on here about sanding it. Is this something that they should know as an option? What if they won't do it? Is this something we can do on our own? What is the process? Also, since they need to fill the hole, is there going to be a problem with it bonding properly? I just want to make sure I'm aware of any red flags.
Surface is Stonescapes micro pebble.
This is the chunk out next to the tile.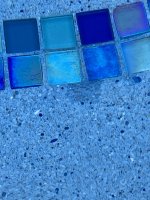 Last edited: