Hi,
Just joined the forums. Had a local pool store test my water today: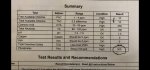 Info:
Plaster pool in AZ, Cartridge filter system. Would guess 10-12kish gallons. Have been fighting some green algae on walls (not too much, mostly on south pool wall, annoying to look at). Wire brushed all walls and shocked pool last weekend, 2 gallons of liquid chlorine Friday, 1 gallon Saturday, 1 gallon Sunday. Can see what looks like faint green algae coming back today. Other than that there is a water line on tiles. Pool store guy said today I need to drain and refill my pool. (Last time I did this was 5 years ago when I bought the house). No other chemicals have been in the pool last 6-9 months other than 3" Chlorine tablets.
Would it be best to drain and refill? Also I'm having BBQ Sunday, this water is fine, right? I'm guessing it is but pool store guy said I should have him retest the day before BBQ to make sure it's "ok", not sure why or what that means, maybe because the chlorine is high? Water is crystal clear.
Thank you guys in advance! Let me know if you need any other info.