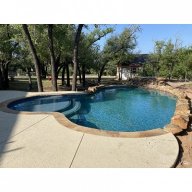 Jun 8, 2020
469
Pool Size

14060
Surface

Plaster
Chlorine

Salt Water Generator
SWG Type

Pentair Intellichlor IC-40
When I run our Warrior Si cleaner, I always seem to see it in the deep end of the pool. Even if I start it in the shallow, it tends to go straight to the deep end right away.
I thought maybe it's just when I happen to go out and look at it, so I decided to do a time-lapse video of it performing a clean. I set it to a "quick clean" for this video, which just means it won't climb the walls. It's still supposed to vacuum the floor as normal though.
Does this seem right to you guys? The video is only 31 seconds long, but the cleaning cycle was a full hour. It seems to stay in the deep end, and go back and forth ... it does come up to the shallow a couple of times, but not nearly as much as I thought it would; especially considering the shallow end is a much greater % of the floor area than the deep end.