I've had a 2HP Optiflo for about a month, self-installed and bought new. It's been running without issue for that time, until this morning, when I went out to check chlorine and turned the pump on. I heard a puff and pop from the rear of the housing followed by a tripped breaker. I'm thinking water got into the housing somehow and shorted the pump. I'm not optimistic Pentair will be willing to do anything about this given it wasn't installed by a certified installer. I do have two questions.
1) has anyone encountered a similar issue with Optiflo pumps?
2) Are there any recommendations for a good pump for pairing with a 150ft² cartridge filter? This is a semi-buried AGP, and I'm not opposed to an in -ground pump. I'm debating trying a motor replacement before buying a new pump.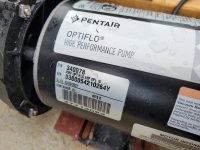 Last edited: