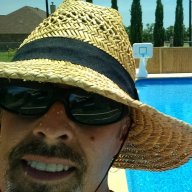 Mod Squad
TFP Expert
LifeTime Supporter
Those fluctuating iron/copper test results from the pool store are an example of how erratic all their testing is. Good thing you are testing on your own now.

So it does sounds like the water color (tint on the carts) is a local thing. If you're still curious, next time your husband has the filter open, he can try this:
- Regular spray rinse of carts; are they still orange? If so, apply a vitamin C tablet directly to one of the paper carts; see if it changes to white. If it turns white, it's iron. If not, it's probably that soil sediment from your local supply.
As for the pH, an elevated FC will of course make the pH seem high. Your last pH of 8.3 was quite high even for a SLAM of 20. But you also mention the house water seems to be low?
Let's come back to the pH tomorrow after you've had a chance to perform the
Overnight Chlorine Loss Test
. That way we'll know if you need to continue the SLAM or stop tomorrow.