So after lurking, reading, learning and seeing the light I now feel pretty comfortable taking care of my new pool. Just 3 weeks ago I was trying to hire a pool guy to help me take care of my pool, but most are not taking new customers due to COVID19 here. Now I realize I don't need one (and would trust myself over any pool store or generic pool guy). I posted prior about loosing chlorine like crazy despite having a salt water generator. Solution was getting CYA from 5 ppm to 40 ppm initially. So here are my current numbers with the Taylor K2006c test kit.
FC - 8.5 ppm
CC - 0.5 ppm
pH - 7.6
TA - 110 ppm
CYA - 40 ppm
CH - 230 ppm
salt - 3100 (from SWCG reading - waiting for K1766 kit to get here)
I did an overnight chlorine loss test (0 ppm)
I turned off the SWG and found daily chlorine loss was 1.5 ppm
For a 29,000 gallon pool, my SWG can replace 1.5 ppm chlorine at 50% setting running the pump for 12.4 hours.
I'm happy with the water clarity, and so were a couple visiting ducks. Next step is to increase CYA to 70 ppm (I kept it lower incase I had to do a SLAM - I wanted to do the OCLT first). Then I'll find the right setting for the salt water chlorine generator. This site has been invaluable - thank you. I'll definitely keep reading at hopefully my next hurtle will be closing the pool successfully this fall.
PS - 1 question I did have was doing the FAS-DPD test - the Taylor K2006c instruction say to add 2 scoops of powder. But a video I saw said to only add 1 scoop of powder. Does this matter? And does it matter if the scoop is flat or heaping?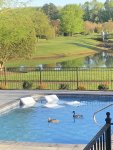 Last edited: