We are finalizing plans for our backyard with pool. Would love member suggestions/recommendations. I've thought about this a ton but may be missing something.
FYI the current pool in my sig is my in-laws' pool.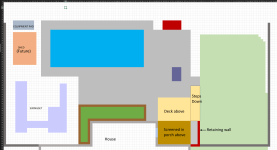 Pool:
40x16 Fiberglass w SWG, heat pump, and autocover
Aspen model by Thursday Pools
Aspen Fiberglass Pool Design - Thursday Pools
Backyard layout explanation:
Please see attachment. I planned it in Excel since it was easy to change. Each cell in Excel is 1 sq. ft.
40x16 pool is the big blue thing, obviously. Pool builder includes 4' wide brushed concrete around the perimeter of the pool.
Light gray is brushed concrete patio. Medium gray is outline of house (accurate to +/- 1'). Dark gray is proposed fence (see bullet later in this list).
We have a walkout basement. Door is light blue to the left of "Screened in porch above" text.
We are finishing the area underneath the "Screened in porch above" and "Deck above" areas. We already have a hot tub under there (thanks for the hot tub cover recommendation @cowboycasey !) and are adding a built-in kitchen with grill, storage, an area for my Kamado Joe, and other grills. The steps down come down from the 1st floor walkout deck. Fans, lights, heaters, and speakers wired to inside AV receiver.
There is a retaining wall in red labeled "Retaining wall." The lot slopes down on that side from the driveway pad. The retaining wall is being extended to the edge of the steps down area.
The big 8x4 dark red box (width by height) is a fireplace. We haven't picked a model, but most are 4' deep and 8' wide seems right as a feature given the size of that part of the patio.
Purple 4x6 is outdoor dining room table. Mostly doing that to measure spacing since to the bottom of the diagram (the "deck above" light yellow area) there will be bar height seating.
Dark gray 1' lines are proposed fence. I am going to run it out as far as possible given topo (the left of the diagram slopes down hard to the left, the back slopes down lightly).
Area much further past this image on these 3 sides is wooded with mostly pines. We are in a cul-de-sac back lot. We back up to a stream which is visible from the patio/"deck above" if you look just right of the fireplace.
Equipment pad location was just to keep it away from the patio/kitchen/deck area. Not married to that.
Future shed is almost max size (10x14) allowed in my neighborhood. Figure we can make it look nice with regular door and windows to the pool, then the large door opening to the swingset side. For storage of pool and minor landscape stuff.
Brown edge with green is a bed and shrubbery (I need a shrubbery!).
Swingset location is not my favorite, but it's about the only area big enough and flat enough to do it. The swingset is currently where the pool is in the diagram.
Last edited: