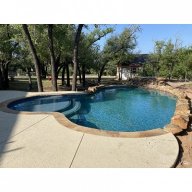 Jun 8, 2020
469
Pool Size

14060
Surface

Plaster
Chlorine

Salt Water Generator
SWG Type

Pentair Intellichlor IC-40
We're scheduled for plaster and fill next week, and I want to be sure I have everything I need to get started on the TFP method.
I will be asking my PB what they plan to add to the water on initial fill, and want to be sure they're not adding anything that'll prove to be an issue with the TFP methodology. I also want to be sure I have whatever I need for that initial period of getting the water stabilized while the plaster cures.
I plan to use trichlor pucks during the plaster curing process, until my CYA get's to the desired level, then switch to liquid chlorine, until I get to a point where I can turn on the SWCG.
My coop water (which is what I'll fill with) tests out as:
pH = 7.3
FC = 1.5
CC = 0.5
CH = 300ppm
I do have a water softener, and have my autofill plumbed to it ... but could run a 2nd hose from a softened spigot if it makes sense to fill with both.
I'm sure we'll be running the waterfall quite a bit initially, since it'll all be new for me and my family .. so I know I need a good amount of muriatic acid on hand. But what else should I have on hand, or allow the PB to throw into the pool?
Muriatic Acid (how much?)
Trichlor Pucks
Bleach/LC to set initial FC (how much?)
CYA (what kind and how much?)
Soda Ash?? (Or something to raise pH if needed?)
Sequestering Agent maybe?? Just to be sure any metals in the coop water don't cause an issue?
Calcium Chloride?? (Or is 300ppm fine for the initial fill and curing of the pebblesheen?)
Anything else?
I just want to make sure I have whatever I need, already on hand, so I'm not reliant on the PB to be adding what is needed. I also want to make sure they don't add stuff I don't want in there ... Ideally, they won't add anything to my water at all, and I'll have everything they say is necessary already on hand, and aligned to starting off with the TFP methodology right from day 1.
I would guess the PB will plan to dump enough LC into the pool to bring the FC up initially, as well as a sequestering agent, and they'll probably want to drop a bunch of CYA into a skimmer. I believe I shouldn't allow them to do that though (based on what I've read), and I should use the sock method to hang the CYA in front of a return.