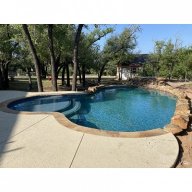 Jun 8, 2020
493
Pool Size

14060
Surface

Plaster
Chlorine

Salt Water Generator
SWG Type

Pentair Intellichlor IC-40
We just had our pool plastered today, and the crew is coming back tomorrow to acid wash it. I noticed the plaster crew cut the caps off of the floor drain pipes, and then shoved plastic down inside the pipes. Water is continually dripping out of one of the pipes, enough so where there is a pool of water growing in the deepend.
I already turned off all the valves at the pad, but it's still dripping out. I assume it's water left in the pipes, and gravity is pulling it out.
I contacted my construction manager, and he said the acid wash would take care of any color variation caused from this. But what about the proper curing of the plaster itself? Won't the part which is remaining wet cure at a different rate than the rest, and will it cause a structural issue for the part which is never going to dry, or maybe cause cracks between the wet and dry portions due to different curing rates?
i