Hi everyone! I recently discovered this site and have been ferociously reading and trying to absorb all of the great info here! We are set to break ground on our first pool in the coming weeks and we are super excited. We are a family of 4, with kids ages 7 & 10. We are building an 18x36 IG gunite w/ spa (yes, we know we want one
) and tanning ledge, with Blue Surf/Desert Gold PebbleSheen. Trying to add pics of the back yard but it keeps saying files are too big
. I don't know how to shrink them?! Here are the renderings from the PB: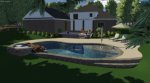 This is the info we've been given on the equipment and other details:
Main Pool Pump - 1.5 or 2 HP Hayward TriStar Pump
Filter - 600lb Hayward Side Mount Filter and Valve
Secondary Pump - 1.5 HP Hayward MaxFlo Pump (this will aide in running bubblers and waterfall from spa)
Heater - 400,000 BTU Hayward Heater
Booster Pump - Hayward .75HP Booster pump (will run Polaris pool cleaner)
Salt System - Hayward PL-Plus with a T-15 cell
Lights - Hayward Color Logic Lights
(3) 1.5" LED underwater pool
(1) 1.5" LED underwater spa
(2) LED bubblers in tanning ledge
AquaConnect System
2 skimmers
4 directional returns
Dual main drain
Polaris 280 automatic cleaner
Oklahoma flagstone coping
Colored concrete decking with salt finish
I think from reading on TFP we need more details on the main pump...is it SS/VS?? A question I would like to ask the experts here is: which type do we want/need? Also, I'm not sure what the filter or salt system they have listed is. Does anyone know if those look ok?
Thanks so much in advance for any help or advice!!