We are complete newbies to the pool-building arena. With an investment this big, we wanted to make sure we did everything right,so we plunged in to the research and learned everything we could about pool building. We interviewed 8 builders and obtained pool designs and bids from 6. I must have visited 10 different pool owners' homes, asking questions ad nauseum . This website was extremely helpful in the process, providing a non-biased forum to bounce questions off experts, read opinions, and gather information.
One of the most frustrating parts of the process was finding that nearly every company we interviewed had a different opinion on the way our pool should be engineered. Some wanted to do chemical injections, some piers - and even with piers, there were 3 different kinds (and each was the best!) Even opinions about salt water and the effect on stone and equipment varied greatly between pool builders. After 5 months of research, interviewing builders, and harassing friends and acquaintances with pools, we finally signed on the dotted line.
We chose our PB based on experience in our area, size/stability of company, comfort level with PB, customer reviews and price. The process has been slow but steady and we feel really comfortable with the resulting pool design and process - hope it all goes according to plan! I just hope we get 1 month of swim season this year.
Here's the design: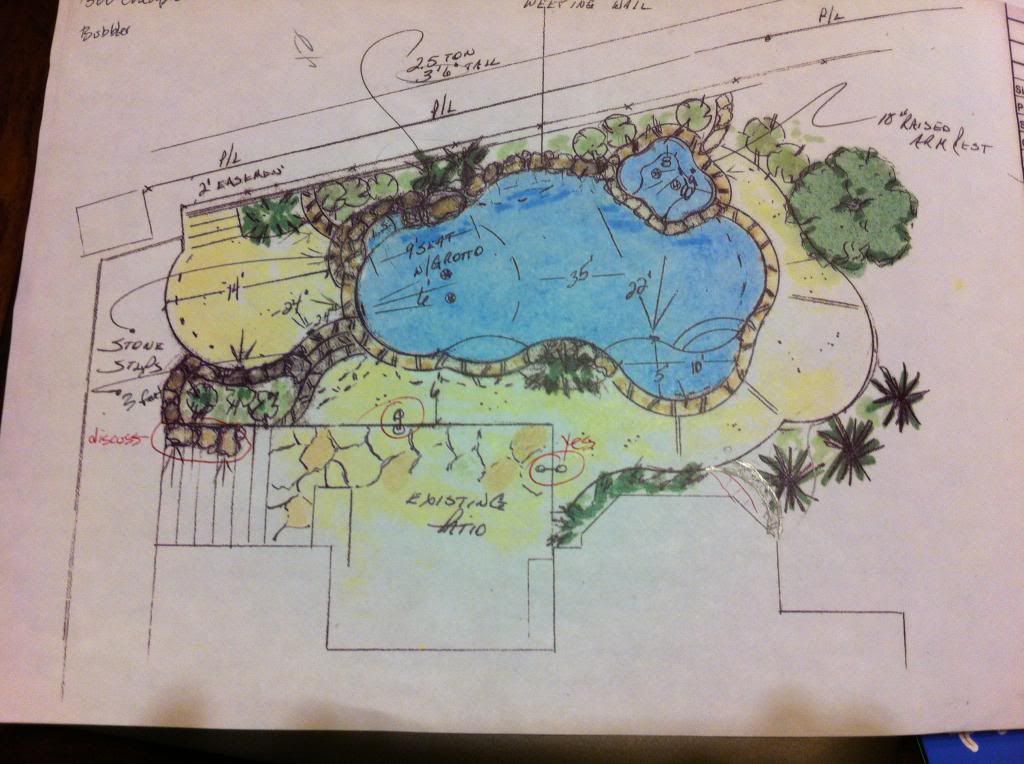 There is a slope in our back yard, toward the deep end (on the left), so there is a raised beam of about 2 feet on that side with a lowered decking. Along the back of the pool is the spa with rock spillway, 12 feet of weeping rocks and 3 foot grotto/ waterfall.
We signed our contract and within 2 1/2 weeks, the excavator showed up at our back gate. We have a large retaining wall which our pool builder assured us this would break in the process (but they would rebuild) to save our driveway and the other part of the yard from being ripped up (and as an added bonus, no need to move the shed. YAY!!)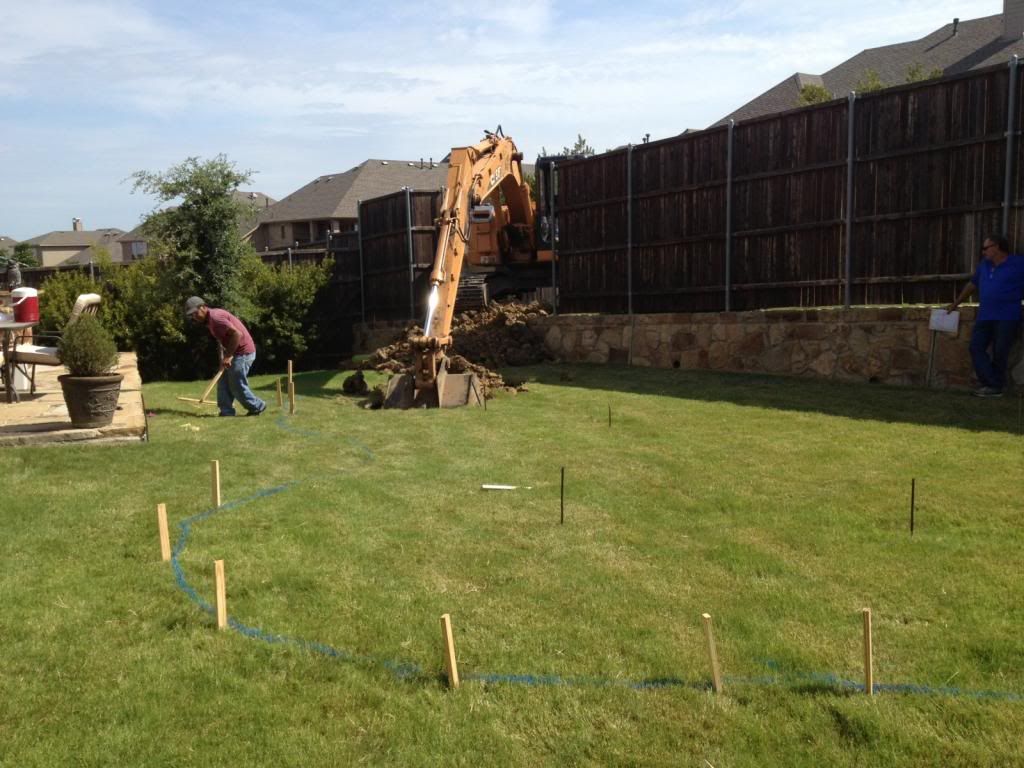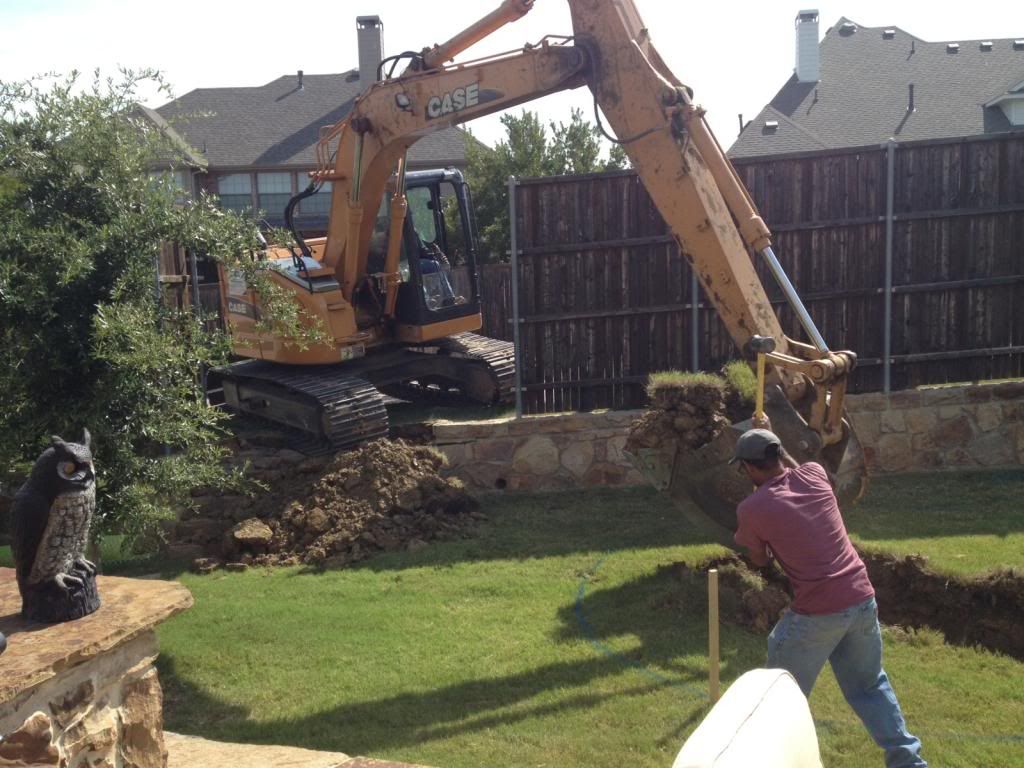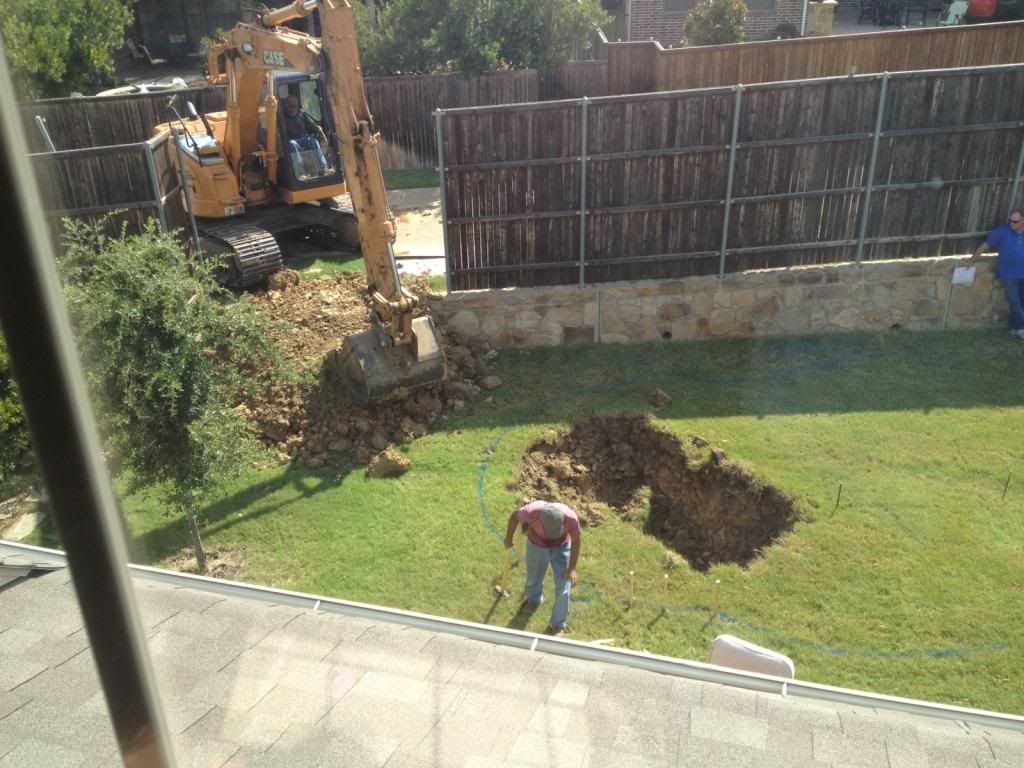 The excavation went smoothly and the extremely talented crew had it all dug up in a few hours. Amazing how that giant beast can finesse the benches, spa, and tanning ledge!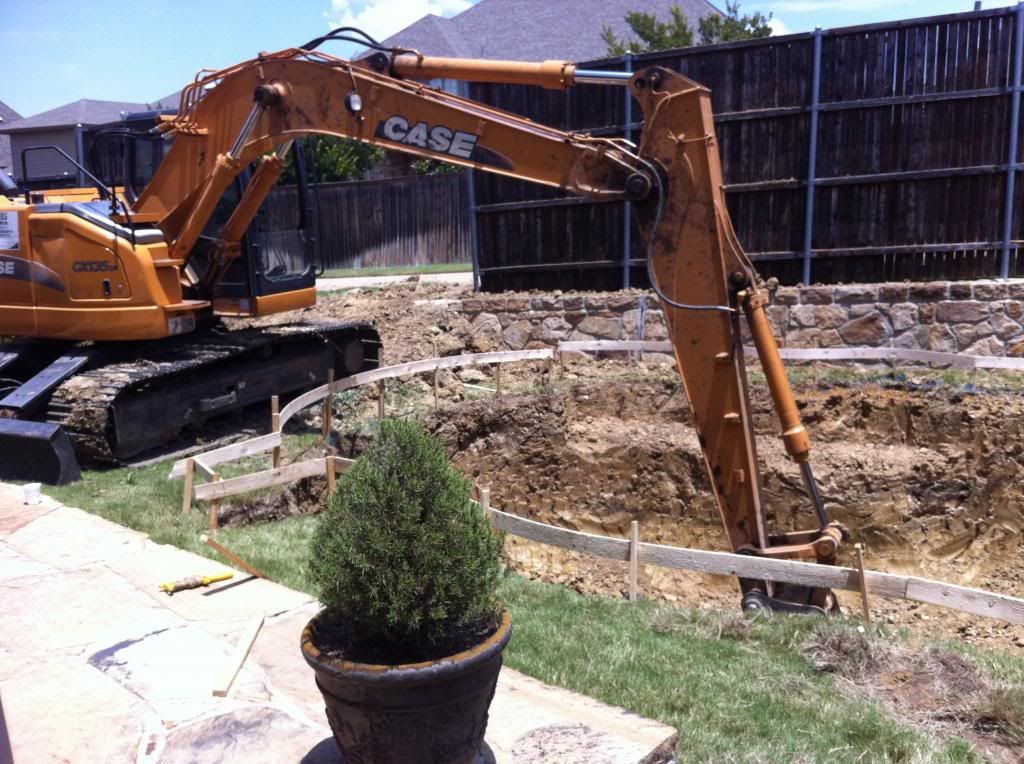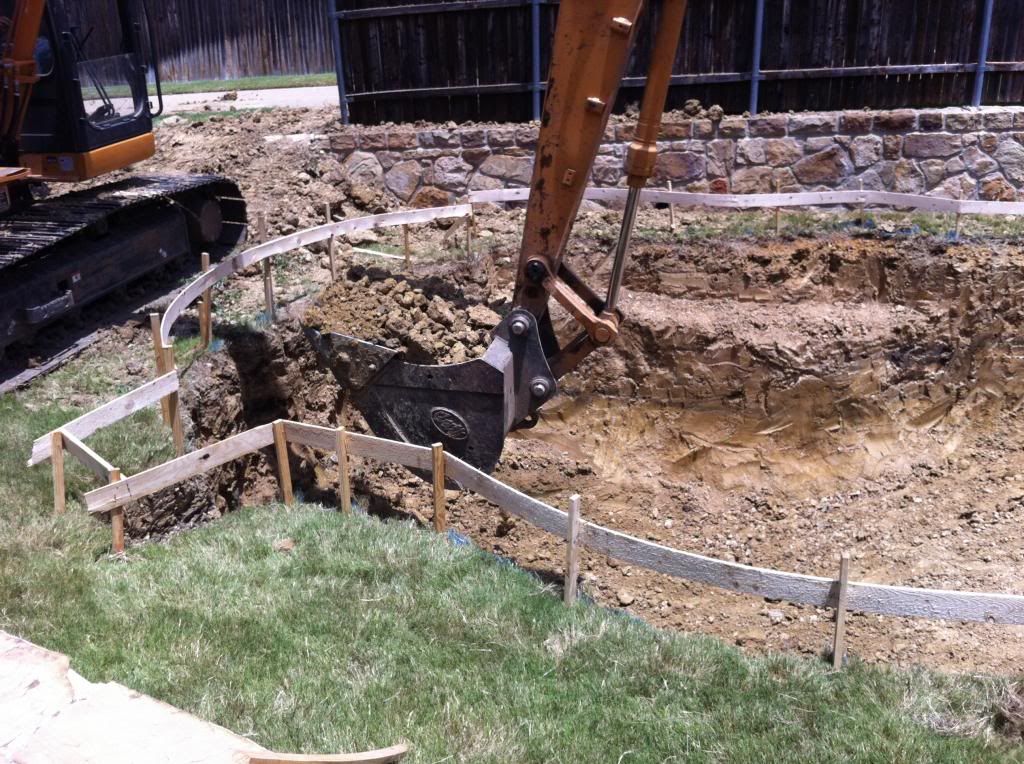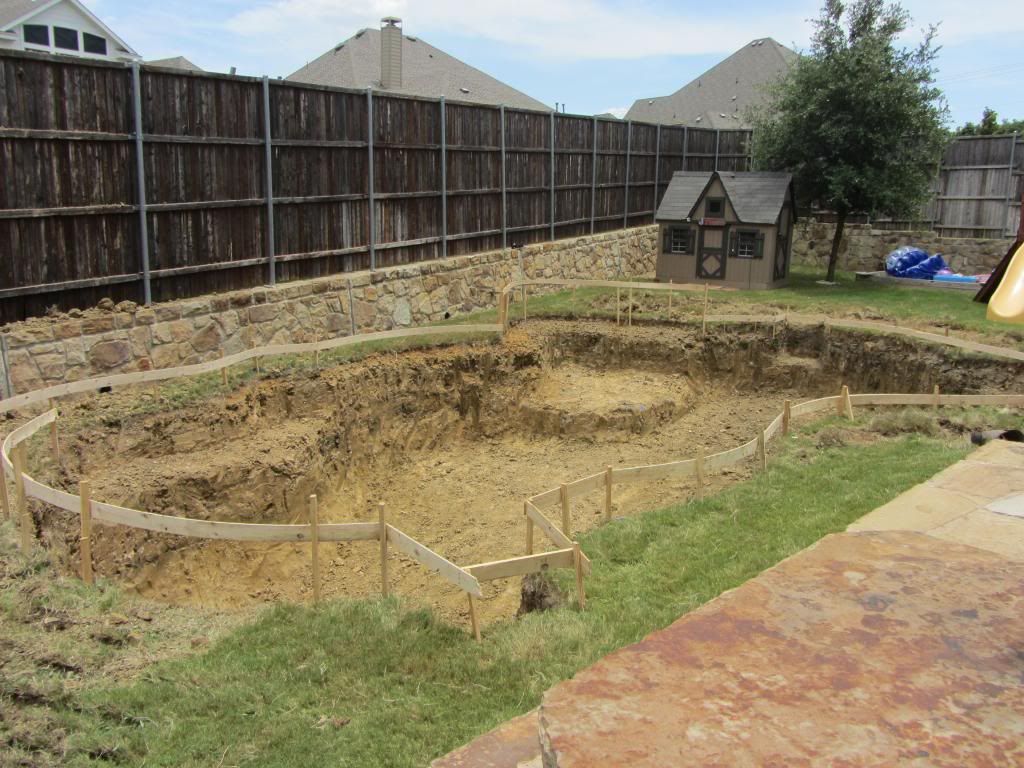 Because of our expansive, unstable soil, we are doing a pre-swell which helps prevent the soil from later swelling up and cracking the pool structure. We put in 15,000 gallons of water to be absorbed by the dirt.
Nasty, murky water! It does help us envision what the pool will look like later when filled with water, though!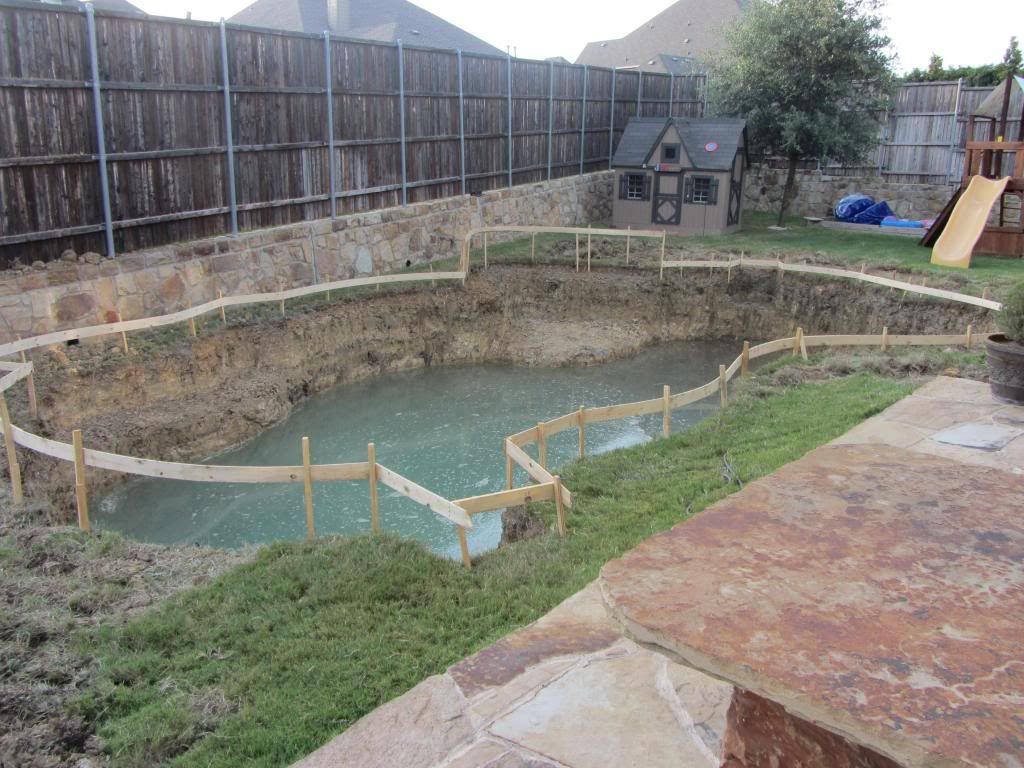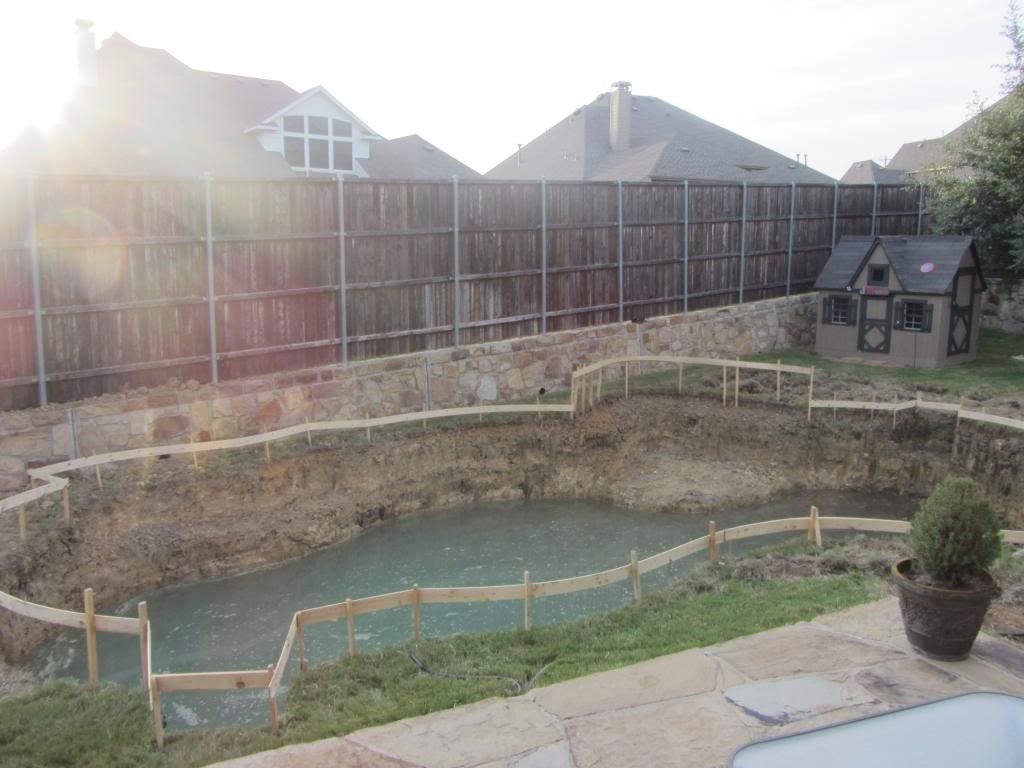 A lot of nothing done this week due to rain in Texas. The engineering test should be completed TODAY and
MAYBE
the steel will go in tomorrow. Hoping for plumbing and (cross my fingers) gunite by next week.