Mod Squad
TFP Expert
LifeTime Supporter
Well, I decided I love the TFPC method, but didn't care to carry bottles out to the pool every day. I was torn between a Liquidator and a Stenner, but for my install the Stenner won out.
A little background. We purchased this house in November 2013 and the pool was already there (our first pool). Before we closed on the house we met the previous owner there during an inspection. Now, he said he never closed the pool and it was running and sparkley clear. My full set of instructions was about five minutes long and was basically
Keep water at the middle of the skimmer
Float pucks
Shock once a week
Brush it once & a while
Vacuum when needed
Backwash the filter
That was it. I had been given his depth of knowledge. My gut told me that if I went to a pool store for their help I would end up with an armful of stuff and a lighter wallet. But, I wanted a new portable hot tub (Hot Springs to be exact) so it was off to a pool store with a bottle of water in hand. To my surprise they said the water was perfect, don't do anything. They discussed what chemicals I might need and I said I would look and see what had been left behind before I bought anything. That continued for December, January, February & March. I started reading and finally found my way here, but not before I purchased a huge bucket of pucks and lots of shock (Costco).
Well, my perfect water ended up having a CYA level of 200+, now down to 80. Lots of bottles of bleach have been poured into the pool, but luckily I have not needed to SLAM.
Understand, the pool equipment for this house is installed in the crawl space under the house. Before you think, what a pain - my crawlspace on this side of the house is 12 feet tall. Plenty of space.
I purchased the 45MHP2 Single Head Adjustable Output High Pressure Pump in 220v from USwatersystems. The day I ordered it I went by Lowes and picked up my electrical needs, including a NEMA 6/20 receptacle.
I wired this receptacle up to the timer that powered the 220v pool pump, so when the pump is on the receptacle is hot.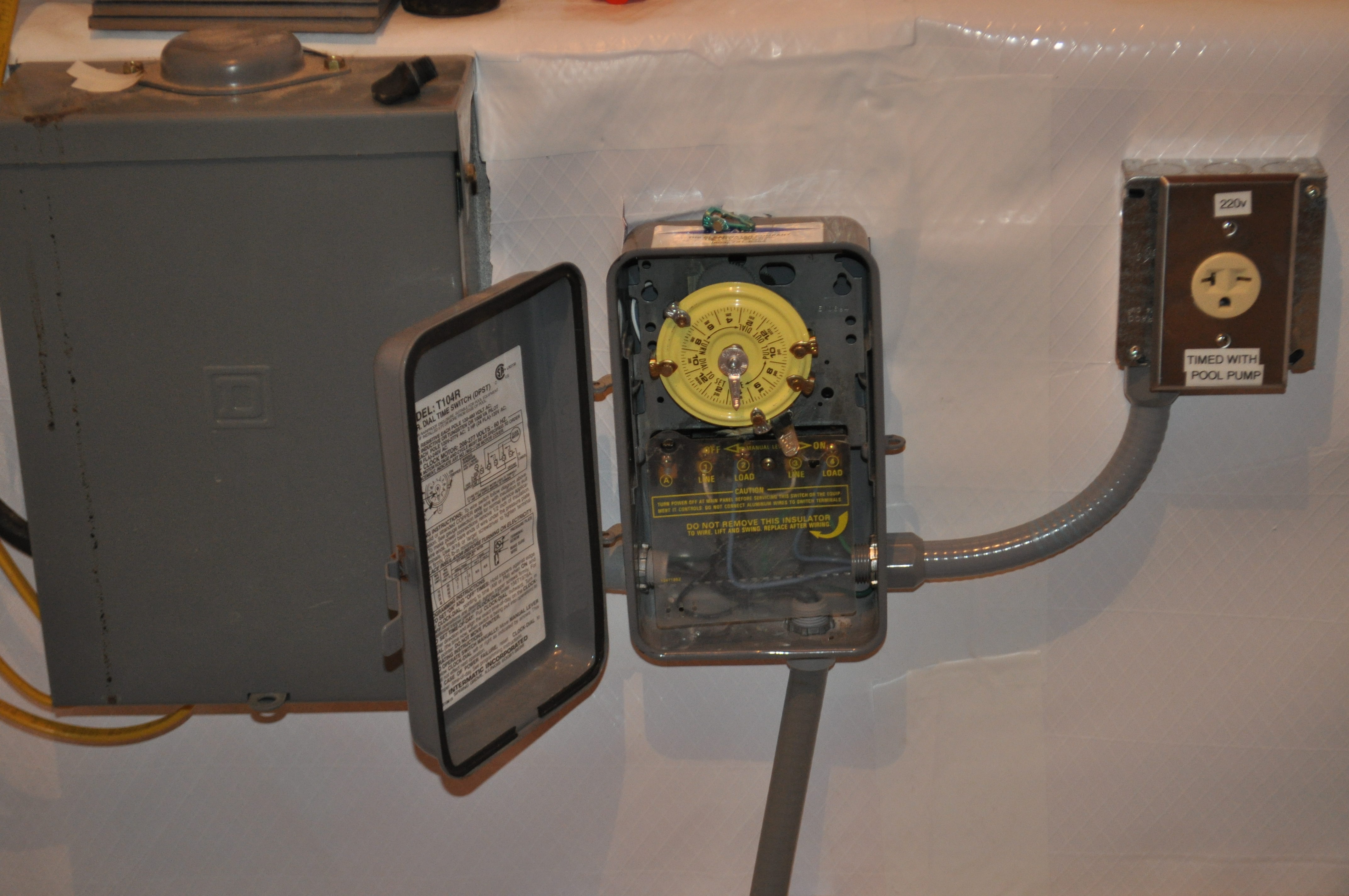 I received the pump as well as a tank from another TFPC member who found them for a reasonable price, but had to buy three. He was nice enough to pass the savings along to two other folks! It took about 30 minutes to mount the pump to the wall and plumb it into the system. It plugs right into the receptacle, so no cutting off the plug supplied.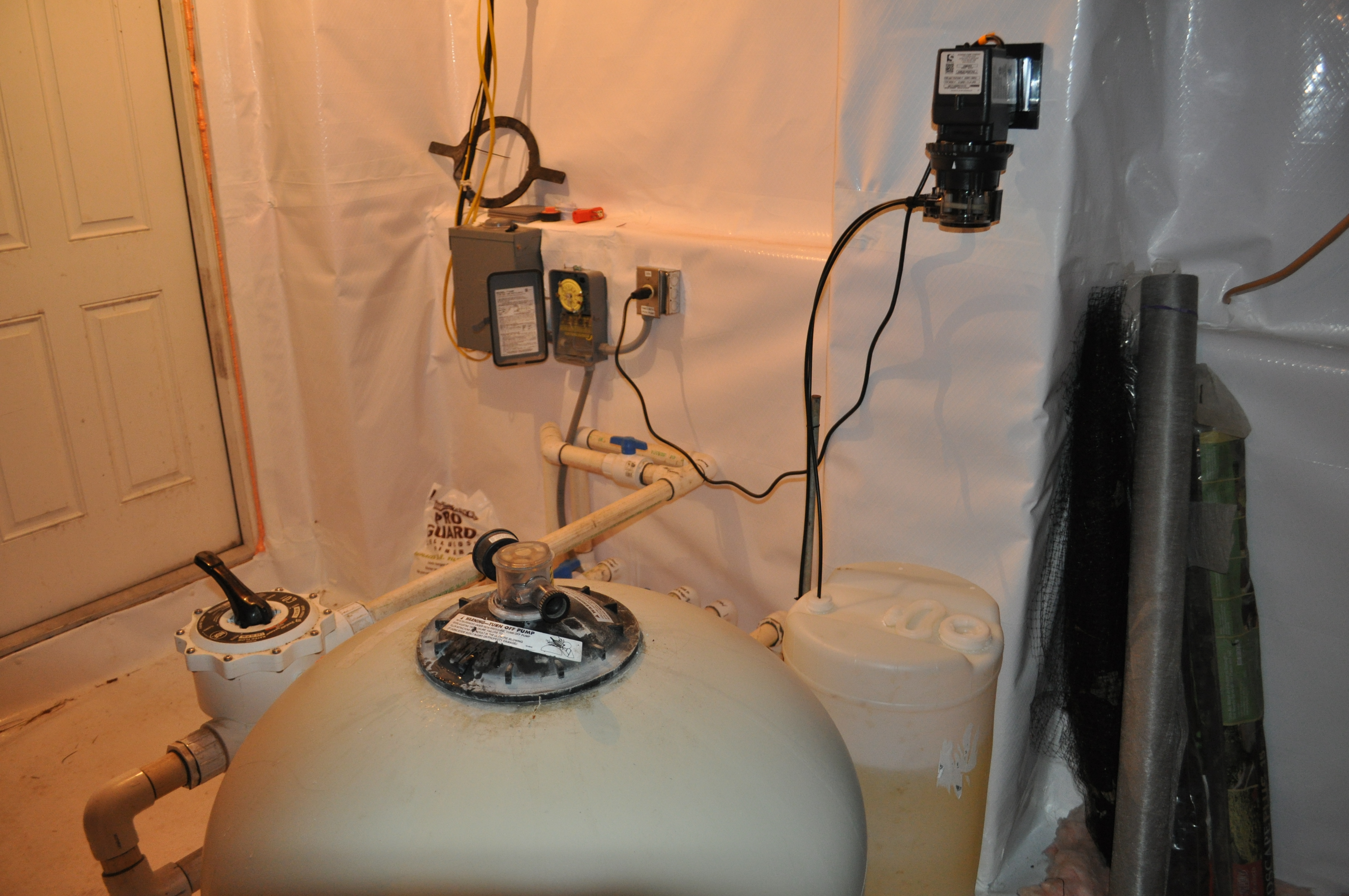 Right now I have it injecting into the pump strainer basket, but plan on moving the injection point into the 2" return pipe when I get some "extra" time.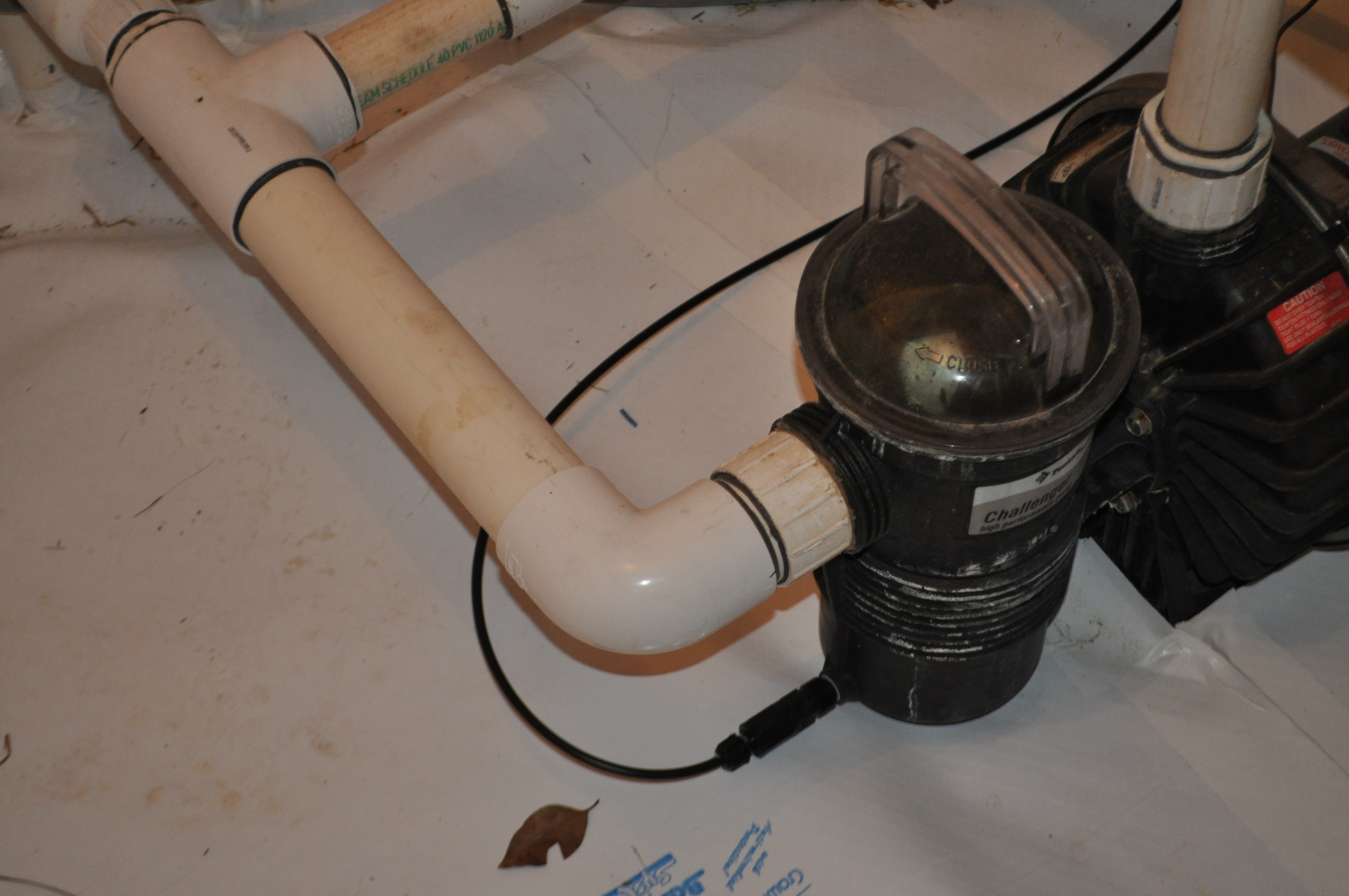 Now, understand I installed all this the afternoon the wife & I had to leave town for 10 days. My choice was start the Stenner or float pucks. The Stenner won.
My math:
The pump is rated at 3.0 gallons per day (with the #1 Tube) or .13 gallons per hour.
I run my pump 6 hours per day so at 100% I would get 0.78 gallons added to the pool
I wanted just shy of 0.5 gallon, so I need to set the pump at 60%
I raised the FC in the pool to 10, filled the tank, turned it on and left town. To be honest, I didn't trust my math skills, so I actually set it at 65% before we left.
Ten days later I returned home. I was imagining broken hoses with chlorine under my house, an empty chlorine tank and a green pool - all kinds of things. Well, I came home to a beautiful pool with my FC sitting at 7.0. As I need to keep my FC between 6 - 9 due to my CYA level I will need to play with my settings just a little.
The Stenner will never eliminate the manual addition of chlorine, but I'm hoping to get close.
This pump is wonderful!!
*********Edit ******
I finally got time in my schedule and changed the injection point from the pump strainer basket to it's own spot in the return line to the pool. Due to my plumbing, I had to cut the return pipe and use unions to set it back in place rather then just adding a "T". I also added a shut off valve so I can remove the Stenner one way valve if need be without shutting down the system.