After about 2 weeks of intensive research I made the dive (pun intended) and ordered my first "real" Above Ground Pool (only inflatables up to now).
I might be crazy but I am trying to DIY this entire setup between my Father and I.
We are both very mechanically inclined and have done a lot of research and now we think we have a plan.
Ever since we sent the order we have been none stop leveling, clearing, collecting supplies, and praying for rain to go away.
Details:
- Saltwater 8000
- Solaxx Saltron Retro XL
- Hayward S180T 18" Sand Filter system with 1.5HP Power-Flo pump
- 25 Gauge Unibead Liner
We have also purchased:
- Cheapest Solar Cover I could find on Amazon
- Taylor K-2006
- Taylor K-1766 (salt test)
- Blue Wave Peel and Stick Cove
- 400 lbs of Salt
- 150 lbs of Filter Sand
- 20 Concrete Pavers
- Bonding supplies (100ft #8 with a bunch of split bolts and direct burry bolts)
Still to get:
- Limesand (for level skim)
- XPS 1" Tongue and Groove Foam
- GFCI box installed (electric already run)
The Plan:
I have dug about 18" on 3 sides of the pool and plan on semi-inground.
I will have native ground level within 1/4" on my wall line and 3/4" inside that.
I will then add Limesand for a final level and tamp it solid.
Foam Board on top of that, followed by my foam cove.
Still trying to figure out the backfill on my 18" hole.
The Build:
Day one of the dig, notice how happy everyone is.
This version of me had no idea what he had gotten himself into
!
After getting the outer ring very close to level ... Rain hit. 3 days straight.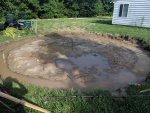 At this point I knew if I didn't do something we would never get the dirt work finished. So I sacrificed my level, and dug some drainage ditches.
At the low end I stuck an old sump pump and came out and manually turned it on about every hour to help take water off the top and keep it from soaking in.
I was very proud of these results (lots of hard work in the middle of the night)
After another day of ground prep I got smart. I went and bought a HUGE tarp from Harbor Freight and covered the work I was so proud of.
Ridgeline worked great, but I did have to prop up a few places due to the weight of the tarp.
Next came the compactor.
Now we are getting somewhere!
at this point the middle is within 1/2" of level and the outer ring is 1/4" level.
Compacting the center did affect the overall smoothness, but overall level was still very close.
Since I have more layers to go on top here, I didn't worry too much about being perfectly smooth at this layer, just overall level.
And then of course ... more rain! Its about this time I realized starting this project in June was such a bad idea.
But to cheer me up, a very large package arrived!
On to the next post!
Last edited: