Opened the pool 2 weeks ago and noticed that the liner had a lot of yellow staining on many different areas. Confirmed with vitiamin C that the stains were from iron.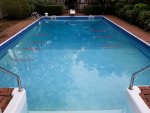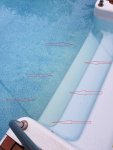 vitamin C in sock test
Here is the order in which I proceeded
Saturday 5/4/19
1)Dropped FC to almost zero with a neutralizer
2)Dropped the PH to 7.0
3)Filter on circulate
4)Added 16oz of Kemtek 60% algeacide
5)Added 1lb ascorbic acid. Waited 30 min but didnt see any stains lift
6)Added another 1lb of ascrobic acid and over the next 30 minutes and all the staining was gone.
7)Added 2 quarts of Metal Out by Pool Mate
8)Filter back on filter mode.
At this point it was around 9pm but the pool was extremely clear and the liner was bright blue.
Sunday 5/5/19
At 9am the pool had turned light green which I read was from the iron being held in suspension by the sequestrating agent (Metal Out). Even though I knew this was supposed to be normal, it was rather discouraging and frustrating to go from blue to green over night. The CYA levels in my pool were over 100 from using pucks so I figured this was the best to time to do a partial drain/fill and also get rid of some of the iron in suspension. Filter was set to waste with only the main drain pulling water. Over the next few hours I began to brush the sides/floor while pushing the debris to the main. My pool was a little dirty but even when I would brush the clean sections, you could see a darkish green cloud form. I brought the water down to roughly one foot in the shallow end.
Monday 5/6/19
Filled the pool overnight and woke up to this today. FC was still at zero and PH was at 7.0. It took 3 gallons of 10% slowly poured over 4 hours to bring the FC to 3.0. Bumped the PH to 7.2. TA is 150. CH is 200. Currently there are no more yellow stains. The steps are free of yellow staining as well. I can only hope the clear water stays like this.
Last edited: