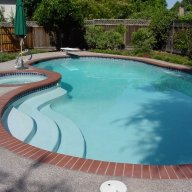 TFP Expert
LifeTime Supporter
I have long been skeptical of the flow limits placed upon PVC pipes. Many web sites would post arbitrary limits ranging from 5 ft/sec up to 10 ft/sec indicating that it is not a good idea to exceed these limits but none would explain why or what would happen if you did exceed these limits. I am a big advocate for rules of thumb but I also like to know where they come so I have some trust in them.
There are many often sited reasons for velocity limits in PVC pipe including water abrasion wearing down the inside of the pipe. However, PVC is one of the most abrasion resistant materials and pools generally have small amounts of particulate mater that make their way through the plumbing to the filter. After, the filter there is even less material so return lines should not have any velocity limits under this assumption. Either way it would take an extremely long time to wear down PVC pipe with the average pool water and given that I never heard of PVC plumbing failing because it was worn out, I decided to disregard this reason.
Another reason for the velocity limits is due to stress fractures. Turning the pump on and off over a long period of time will stress the PVC pipe. This appears to be the most likely origin of the velocity limits and being a self-employed engineer with clearly too much time on my hands, I decided to investigate this a bit further. Here is what I found.
Repeated stress cycling of PVC pipe will eventually cause failures according to this
paper
. The cycles to failure is directly dependent on the average pressure of the pipe and amplitude of surge pressure in the pipe. Surge pressure occurs whenever there is a significant change in the pressure within the pipe over a short period of time (e.g. pump or valve turned on). This creates a pressure wave in the pipe that can be several orders of magnitude greater than the average pressure. Several charts are shown in the Uni-Bell paper which would indicate that most failures occur at very high pressures or large cycle times. So using the formulas in Appendix A, the pressure rating of the pipe can be determined.
The specifications and pressure ratings for schedule 40 PVC piping can also be found
here
. The pressure ratings shown in the table are for 73 degree water and in the table below shows the correction factors for higher temp water. Again, these pressure limits are designed to lengthen the life of PVC pipe and to be resistant to stress fractures. Also on this site is a
reference
to the 5 ft/sec velocity limit as to avoid any hydraulic shock. Also on the same page is a method to calculate the surge pressure which is similar to the Uni-Bell paper.
If we assume that the pressure ratings of the pipe are not to be exceeded by a worst case surge pressure, the maximum velocity within the pipe can be determined. This of course assumes an instantaneous change in water flow. It is this transient pressure that I believe has been used to determine limits on velocity. So by cycling a pool pump on and off enough times can create stress fracture within the pipe. If the pool pump was left on all of the time, I do not believe that velocity would not be an issue at all.
Using the pressure limits for schedule 40 piping and assuming worst case water temperature of 105 degrees, the table below shows what the equivalent water velocity and GPM would need to be in order to create a pressure wave from pump cycling that exceeds the pressure rating of the PVC pipe.
The range of water velocities is within what is seen on many web sites which validates the premise that cycle stress is the origin of these limits. However, the limits are based on a very large number of cycles to create a failure. While this method seems sound at first, there are several assumptions that are flawed. First, the required cycles to reach these limits would never within the lifetime of an average swimming pool. Second, the surge pressure requires an instantaneous change in velocity. Starting or stopping a pool pump has a ramp up and down affect on water velocity and is not instantaneous. Also, if surge pressure was as high as the pressure rating for the pipe, it would probably destroy the filter which is typically rated much lower.
After, reviewing the velocity limits, it became clear that many pools exceed these limits including mine. Water velocities in my 2" return plumbing section would definitely exceed the 80 GPM limit by almost 10 GPM. Looking at my filter when turning the pump on reveals that the pressure goes to about 30 PSI before settling to 19 PSI so there is definitely a pressure wave but not a very big one and no where near pressure rating of the pipe.
There are many pools with 2.5" pumps on similar plumbing configurations which would raise the flow to over 100 GPM in 2" pipe so I believe that these limits are exceeded by pools every day without much consequence. Also, for colder water, the limits are much higher so it is even less likely that the limits are exceeded.
It is my belief that the pool industry took recommendations from water distribution system, once again, and applied them incorrectly to swimming pool plumbing systems. So although it may be a good to design pool plumbing such that the velocity limits are not exceed, I believe that too much emphasis is placed on these somewhat arbitrary limits. In reality, a pool's plumbing will never exceed enough cycles and high enough pressures to create pipe fatigue and failure.
I would be happy to hear about any cases where a stress fracture actually occurred but so far, I haven't heard of any. Most plumbing failures I hear about occur due to poorly welded joints and damage to the pipe from external factors (e.g. shovel).