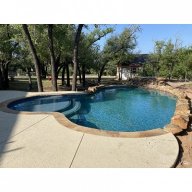 Jun 8, 2020
442
Pool Size

14060
Surface

Plaster
Chlorine

Salt Water Generator
SWG Type

Pentair Intellichlor IC-40
As the pool water temp gets colder, I notice my CSI dropping below the target range.
My pH has been rising pretty quickly, requiring around 15oz of MA every 2 days to keep it below 8.0.
In order to keep the CSI in range with the lower water temp, should I allow the pH to stay in the 8.0-8.1 range?
Right now my CSI is -0.69 with a pH of 7.6. But at 8.0 pH, it would be -0.27. Even with a pH of 7.8, the CSI would be -0.46; which I realize is within the target range of PoolMath, but is outside the recommendation I keep seeing of between 0 and -0.30.