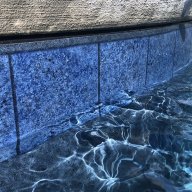 Dec 30, 2020
122
Pool Size

13500
Surface

Vinyl
Chlorine

Salt Water Generator
SWG Type

Pentair Intellichlor IC-40
Second time this has happened. Both times on the retaining wall side that is back filled with gravel and has two sets of drains. One at foot Of wall and another half way up. First time water got behind the liner wall to the right of the deep end skimmer. This happened after a lot of kids and adults jumping in and making waves. Cannonball contest ect. The most recent time was when the water got to the very top of the skimmer but not over liner from heavy rains before I could pump out of the pool. This time there was a little water right next to the deep end skimmer and then this time in the middle pool wall in between the two skimmers was another section of water about 2ft long, 1 ft high about a foot under water on the wall and just felt spongy but enough to where I could see it protruding.

Would I be right to think there is a leak someone towards the top of the deep end skimmer letting water behind with right conditions or is there anything else to look for? Not sure how the water would of made it to middle wall of pool though.

Water took about a day to disappear.