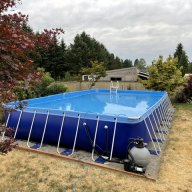 Jul 2, 2021
28
Pool Size

17415
Surface

Vinyl
I am new to this whole pool game. Right now I'm using Trichlor, but I'm interested in using liquid chlorine based on what I've been reading.

My CYA was 5 when I started, so I added some stabilizer, and now it is 44. I wish I had not added quite so much stabilizer. at least I can keep chlorine in my pool now.

I can easily drain some of the pool and then continue using Trichlor throughout the summer, but I'd rather use liquid chlorine.

One thing I would like to do is budget. So I'm trying to figure out if using liquid chlorine will be more or less expensive than using Trichlor.

That being said, I'm a little bit confused on how much liquid chlorine I would actually need to use in my pool. I have the pool math app, but I'm still a little bit confused about how to go about calculating how much I'm going to need. And do I need a dispenser or do I just dump it in? Every day? Every other day?

Any help getting started would be appreciated.