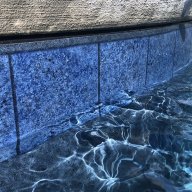 Dec 30, 2020
111
Pool Size

13500
Surface

Vinyl
Chlorine

Salt Water Generator
SWG Type

Pentair Intellichlor IC-40
New pool been open 3 weeks and swg has been on for 2.5 weeks. Pool guy came two times as apart of opening package and two days ago said my balance was spot on besides low alk which he did something to raise. Went swimming tonight and I can already see the liner is lighter on the water line below.
Test kit came today and here are my results. Could this possibly be liner fade already after such a short timeor is it normal to have a slightly light liner under water line? It is minor.
7PPM FC
.5 CC
50 Alk
40CYA
4000 salt

PH looks to be 7.8 but chlorine looks real high like off the charts according to colors on attached picture.

Pentair SWG is set to run 12 hours per day at 60%. Please let me know what to do. I don't want to ruin my liner.
Last edited: