Good afternoon. I'm a long time reader, first time posting. I am not in the industry, but feel that I am fairly skilled and research my projects thoroughly to ensure I am doing them correctly. This spring I had a Heliocol Solar heater installed and we had an existing Waterways Oasis pool automation system that was able to control the solar. There were some issues (mainly it would loose internet connection regularly and the display screen has failed and been replaced multiple times). Due to these issues I was already planning to upgrade the pool automation to the IntelliCenter. I was doing my research and learned these are currently on back order almost everywhere. I placed an order and was happy to wait until last week the Waterways stopped completely.
But this post isn't about the Waterways. Since I already had an IC40 SWG and the actuators I needed, I knew I only needed a load center and the personality kit. I was able to find an IntelliTouch/EasyTouch to IntelliCenter Upgrade - i10PS | 522048, and an IntelliCenter load Center | 522043. Since the i10PS upgrade came with the new HPW Wireless Link Kit I should be set. Surprisingly, purchasing these in this manner saved a significant amount from the price I was finding them together as a total kit (on backorder). Another nice thing, because the load center was already an intelliCenter, the transformer and low voltage 5Amp and 4 Amp breakers did not need to be switched. (I confirmed by PN on each) so I have/had extras.
I wired the transformer 110v black to a 20 amp breaker, violet to neutral bus bar and capped the yellow line. I connected my actuators, gas heater control, temperature sensors IntelliFlow VS control wire, as well as the HPW Link kit to the i10PS board and powered up the system. I was up and running.
I was plugging away and learning the new system set-up wizard, but I had to leave to do some other errands. The system was running along fine for over an hour and I went back to complete the set-up and to establish a connection to the wireless network. While I was trying to assign relays, the screen flashed, went black and I saw a small puff of smoke come from the area of the lv breakers. The 5 Amp 18w breaker had tripped. I powered the breakers off and opened the lv compartment. Nothing appeared damaged. I removed and inspected the lc breakers and they appeared fine. I know smoke doesn't typically come from nowhere so I replaced the 5A breaker with the extra. I powered it back on and it immediately tripped. I then found this thread. I worked through the processes of taking all lv connections off and testing with only the power applied and it immediately tripped again. Upon closer examination of the board I saw a small burn mark on the ETHR, which I had not used. Could this have been the cause of the smoke and if so, what could have caused a prong not even in use to randomly burn out? If not, could it be the same uln2803 issue OZ found? Since it is new, I will contact the warranty department, but want to know if there was anything I can test to ensure I did not cause this issue.
I appreciate all of your help.
Phil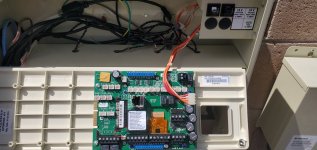 Last edited: