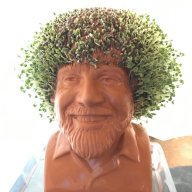 TFP Expert
Platinum Supporter
There are many threads on this topic but I just wanted to report that the Flow/Temp sensor in my IC40 that I purchased roughly about a year ago failed (not exactly sure when I installed it) ...
It was the Pentair OEM replacement (the $99 model on Amazon) so that was a costly $100 for less than a year's worth of service. The IC40 was installed in 2013 and ran until 2018 before the original sensor failure. The replacement got me one more year. The flow switch works fine, the thermistor is what went bad (all flashing % LEDs when in diagnostic mode). It's amazing how bad these sensors are. I think it may have failed sometime over the summer but, because the water temp was high enough, it really didn't affect the salinity much. I know my actual salt level is 2900ppm but the ET panel is reporting 2550ppm which is "VERY LOW SALT" but the water temp is 73F so it should be really close to the actual value since 10k thermistors are 10kOhms at 75F.
I have the in-pipe Pentair 10k thermistor used for water/air temperature measuring. I'll have to ponder my options of either installing the in-pipe thermistor and hacking the IC40 OR purchasing a generic flow switch for $50....laziness is the ultimate factor in deciding what to do ....
Last edited: