Preface
- As the new Pentair IntelliCenter Automation Control System moves further into the mainstream of pool automation, there appears to be an increase in the amount of just basic questions recently regarding IntelliCenter installation, configurations and standard operation.
Most of these basic requests for information come from folks that are building a pool for the first time and who may looking to incorporate the new Pentair IntelliCenter Control System within that build.
It seems that some of the issues encountered for many of these new owner/builders is due to the difficulty in searching for and locating the applicable installation, owner and quick reference guides online, as well as locating other useful information in order to make important decisions regarding the IntelliCenter, prior to their new pool installation. In addition, many of the professional pool builders are not yet well versed in the IntelliCenter, to include its installation and functionality and consequently are of little help for these owners.
Lastly, much of the Pentair documents are difficult to understand at times, especially for the new pool owners and many of the terms and definitions used in the IntelliCenter documentation, are not always easily understood and interpreted and can also be conflicting.
Given these challenges for new pool owner/builders, I thought it might be beneficial to attempt to provide some basic general information, definitions and explanations to the information found within the various IntelliCenter documents and to also provide links to the applicable documentation and other relevant information relating to Pentair's newest pool automation system.
NOTE: The following information is provided as a general and informative overview only. It's NOT intended as a substitute for thoroughly reading and observing any warnings, cautions, notes and guidelines that are contained within the applicable Pentair documentation. Links to these documents are provided below (Links to Applicable Documentation and Additional IntelliCenter Information) and certainly should be referenced for more detailed information regarding proven industry-standard practices, IntelliCenter installation, set-up and programming
.
Table of Contents -
1. Pentair IntelliCenter Overview -
The Pentair IntelliCenter provides automation control over your pool/spa equipment to include pumps, lights, heaters, cleaners, sanitation and chemistry control devices, water features, valve actuators, solar heating, spa blowers and pool covers. In addition, the IntelliCenter Control System can be used to automate other powered items as well, such as landscape lighting, patio and gazebo lights, etc.
The IntelliCenter was first introduced to the consumer pool equipment market in the 4th quarter of 2018.
The IntelliCenter Automation Control System can be programmed and controlled remotely from virtually anywhere while utilizing a PC/laptop computer, iPhone, iPad, Surface, Android mobile device and most other mobile digital devices. In addition, optional wired and wireless remote control devices can also be utilized to control the IntelliCenter but these optional control devices are typically not needed in most installations.
Most of these user interfaces allow a user to control most of their pool and spa functions from virtually anywhere that internet/cellular connectivity exists.
The IntelliCenter is also compatible with the Amazon Echo "Alexa" virtual assistant, allowing voice commands to control pool functionality (see also:
IntelliCenter and the Amazon Echo (Alexa) app
.)
The IntelliCenter Control System is a mostly scalable / modular system. It can also be used in combination with other popular home automation systems as well (see:
IntelliCenter Home Automation Integration and Control
) with varying degrees of complexity and requiring varying degrees of "IT knowledge" as well.
With the IntelliCenter, a user can create and customize automated schedules with multiple start and stop times to control filter and spa jet pumps, lights, heaters, spa blowers and other pool devices and accessories. The IntelliCenter system contains several historical usage data features that provide a convenient way to help the pool owner conserve energy.
Popular "bundled" systems can be ordered or in the case of "non-standard" installations, systems can be built "á la carte". See:
IntelliCenter Bundled and Component Parts List
, for breakdowns of bundled and "á la carte" components.
Legacy and newer EasyTouch and IntelliTouch Control Systems can be upgraded to the IntelliCenter Control System as well and are covered in more detail in
Section 9
. below.
2. IntelliCenter Features -
The following are the major features of the Pentair IntelliCenter Control System as somewhat outlined in the Pentair documentation.
4" x 3" capacitive touch sensitive color screen at the control panel which also incorporates a manual and automatic day/night color screen mode.
Remote connectivity is provided by either wired or wireless (Wi-Fi) ethernet connections.
Multi-function schedules and programs with adjustable scheduling timers for easy system scheduling.
100 schedules are provided. Filter Pump/Auxiliary Power Circuits, Feature Circuits and Circuit Groups (macros) can be assigned to these schedules.
5, 8 or 10 Power Circuits (for line-voltage items (240 Vac or 120 Vac) such as Filter, Spa and water features pumps, lights etc. Up to 40 Filter Pump/Aux Circuits can be configured with the use of up to three expansion enclosures (i10X)
32 Feature (virtual) Circuits which allow control over other items such as speeds/flows on Pentair VS/VF/VSF pumps, control for valve actuators, heater(s) control and covers.
16 Circuit Groups: Ability to assign FLTR/AUX power circuits and Feature Circuits to these programmable macros controlled by a single button or scheduled program.
Supports up to 16 IntelliFlo VS, VF and VSF pumps including 8 speeds/flow settings per pump (as applicable). Also supports two-speed pumps.
Supports standard pool/spa lighting as well as IntelliBrite, GloBrite, MicroBrite and MagicStream LED color lights and light shows. In addition, other light manufactures that emulate the IntelliBrite colors and shows are also supported.
Support for two valve actuators ("P" models (A&B) or four Valve Actuators ("PS" models) (Intake, Return and A and B valve circuits). Expandable up to 10 valve actuators with the use of the optional IntelliCenter Valve Expansion Module.
Support for an optional Indoor Control Panel and/or Outdoor Control Panel, Wireless Hand-Held Remote. Also supports up to four Spa-Command and iS10 Spa-Side Remotes, and two iS4 and one QuickTouch II Wireless Spa-Side Remotes (typically not required).
IntelliChlor Salt Chlorine Generator (SCG) integration. Supports one IntelliChlor per Load/Power Center or Expansion Enclosure.
IntelliChem Controller support
Spa Manual Heat Function
Support for two bodies of water
Spa-Side Control Enable/Disable
Solar Heating Option/Support
16 Heat Pump Support: RS-485 Support and Heat Pump Cooling Support (if applicable).
Real Time Clock (12 or 24 hour)
Assignable and customizable FLTR/AUX Circuits, Feature Circuits and Circuit Group names.
Special Circuit Types/Functionality support
Imperial or Metric Support
Air/Water/Solar Temperature Sensor calibration ability
Passcode Protection
Onboard and easily accessible USB port for use with a standard type USB "flash/thumb drive which allows for uploading/downloading system configuration files and manual upgrades to the systems' firmware.
Automatic "Over-the-Air" (OTA) firmware upgrade pushes.
3. IntelliCenter Specific Definitions and Descriptions –
The following definitions are provided in order to minimize confusion with some of the terms or definitions used within the Pentair documentation.
Circuit Breakers:​
NOTE: I am providing the following as general information ONLY. This information as well as any other electrical information provided in this guide, is not intended to be instructional or as an installation guide for the novice in any way. If you are not qualified and proficient in electrical installation practices and procedures, please consult with a licensed professional that IS qualified and proficient in swimming pool electrical installations. ​
​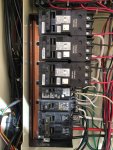 Line-voltage circuit breakers utilized in the IntelliCenter Control System are manually operated electrical switches designed to provide a means of removing power from a particular circuit. They are also automatically operated electrical switches designed to protect electrical circuits from damage caused by excess current from an overload or short circuit. The circuit breakers normally used in the IntelliCenter Load Center are designed to interrupt current flow either, after a fault is detected or as a means to manually switch off power to a particular circuit.​
​
Electrical power (150 amps maximum) is provided from the main house electrical panel to the Load Center. These circuit breakers then distribute electrical power from the Load Center bus-bar to the electrical devices that are connected to and controlled by the IntelliCenter.​
​
Each IntelliCenter Load Center can support up to ten (10) circuit breaker spaces (5) double-pole 240 Vac breakers or (10) single-pole 120Vac breakers or any combination thereof.​
​
Circuit breakers are not included with the IntelliCenter Load Center and must be purchased separately.​
​
Pool equipment such as most pool pumps, heaters, blowers, etc., typically utilize 240 Vac double-pole breakers. Pool equipment such as pool/spa lights, low-voltage lighting transformers and other miscellaneous pool equipment typically utilize 120 Vac single-pole breakers.​
​
​
​
NOTE
: It is recommended that when using any
Pentair IntelliFlo Pumps
in conjunction with an IntelliCenter installation, the
Pentair PA220GF
GFCI double-pole circuit breaker(s) should be utilized instead of the similar Siemens QF220 GFCI breaker. The Pentair PFG (PA220GF) breakers are noted to possess a higher quality control and are designed to help prevent the GFCI circuit breakers from falsely tripping due to IntelliFlo pump harmonics (courtesy:
Jimrahbe
). See this
TFP post
for additional information.​
​
There are
also three (3) low-voltage circuit breakers included with the IntelliCenter Control System Load and Power Centers.​
- 18V, 5 Amps provided for the Control System​
- 24V, 4 Amps provided for any connected Valve Actuators​
- 12V, 12 Amps provided for the optional Salt Chlorine Generator Transformer (if applicable)​
​
​
​
​
​
​
Circuits, Auxiliary or "Aux" Power
: A controllable On/Off power circuit for line-voltage items (240 Vac or 120 Vac), such as pumps (
see the NOTE
regarding IntelliFlo Pumps in "Power Relays" below
), lights etc. Typically, users can select IntelliCenter Personality Kit models that support either 5, 8 or 10 Pump/Auxiliary type Power Circuits.​
​
In addition, up to 40 of these circuits can be configured with the use of up to three expansion enclosures (i10X) if necessary for pool/spa builds incorporating multiple filter/spa pumps and/or with multiple lighting and water features.​
Circuits, Feature
: Feature/Individual Circuits are programmable "virtual" circuits that can control low voltage type items and features such as pump speeds/flows, spillway, valve actuators,
heater control functions, etc.​
​
Up to 32 of these feature circuits can be created and programmed from a pull-down selectable list or they can be customized.​
​
These "circuits" are not to be confused with auxiliary ("Aux") power circuits that actually do control the On/Off features of line-voltage circuits such as pumps (see the NOTE regarding IntelliFlo Pumps in "Power Relays" below), blowers and 110 Vac lights or low voltage lighting transformers.​
​
​
​
​
​
​
​
​
​
Circuit Groups (macros)
: The Circuit Groups feature allows for multiple Auxiliary Power Circuits and Feature (virtual) Circuits to be grouped together and assigned to one On/Off button that is
displayed on the Home screens and Features screens. Circuit Group names are customizable. Circuits that are grouped together in these "macros" can be switched On/Off from one button in the Features (Circuits), Lights (circuits) or the Home screens.​
​
A maximum of 16 Circuit Groups (macros) can be programmed.​
​
However, if necessary, it is possible to create "Nested Groups" which is a group of circuits (macros) within another group of circuits, as long as they are from the same major grouping (Light or Circuit).​
​
​
Egg Timer: The "Egg Timer" feature allows for a specified time delay (hrs./mins.) for a circuit to function, once it is turned on manually. Typically a user will tap the Egg Timer button to display the Hours and Minutes button. Then tap the Hours and Minutes buttons to select a manual time-out from 0 to 23 hrs. 59 mins. for the circuit.​
Expansion Kit: A kit that includes additional FLTR/AUX power circuits and relays to an existing Personality Kit. Requires a Load Center or Power Center for each Expansion Kit. Models i5X (P/N 521033) and i10X (P/N 521034), offer five or ten additional circuits.​
​
Each IntelliCenter Control System Expansion Kit requires an additional Load (P/N521213) or Power Center (P/N 521214). Up to three Expansion Kits and Load or Power Centers may be added to a system, for control of up to 38 Auxiliary Circuits (40 auxiliary circuits' i10x).​
Freeze Protection: A circuit with freeze protection "enabled", circulates water to protect pipes from freezing if the outdoor air temperature sensor detects the temperature is nearing freezing (below 36° F).​
GFCI Convenience Receptacle
(Optional): A standard "single-gang" "knockout" is provided on the right side of the IntelliCenter Load or Power Center. This knockout is provided for an approved
GFCI single-gang electrical receptacle where a rainproof cover or rainproof receptacle cover is required. This GFCI receptacle can be used as a convenient temporary power source at the pool equipment pad.​
​
In my personal installation, I also use the "load-side" connectors on the back of the GFCI receptacle to provide GFI power to my pool equipment pad convenience light switch.​
​
The receptacle and receptacle cover are NOT included with the purchase of the Load/Power Center.​
High Voltage Compartment
: The High-Voltage Compartment is the large lower-right compartment in the Load or Power Center designated for all line-voltage (240Vac and 120Vac) wiring to
include line-voltage conduit knockouts, compression screw lugs for the incoming power leads, circuit breakers (Load Center only), neutral and ground bus bars, transformers, relays, and a GFCI convenience receptacle "knockout".​
​
WARNING: Electrical power should always be removed (breaker switched off at the house main circuit breaker panel that feeds the IntelliCenter Load/Power Center), prior to any work being performed on any components within the high-voltage compartment of the IntelliCenter Load/Power Center. Consult with a licensed and qualified swimming pool electrician if you are not qualified in these procedures.​
​
​
​
​
​
​
​
​
​
​
EDIT: To see possible modifications that can be accomplished within the High Voltage Compartment of the IntelliCenter Load Center, please see the following thread -​
IntelliCenter OCP Load Center / Equipment Pad – Modifications and Retrofit - Table of Contents - - Purpose and Scope - Planning and Other Considerations - Junction Boxes (Line, Low, Actuator/Sensor/Sanitation/Chem) - IntelliCenter OCP Low Voltage Compartment and Raceway - IntelliCenter High...
www.troublefreepool.com
​
​
High Voltage Cover Panel
: A High Voltage Cover Panel (also referred to as a "Dead Front" panel) is provided to ensure that the line-voltage circuits are protected from the possibility of short
circuits and damage to components and more importantly, that users are protected from electrical shock when the Load/Power Center door is open for any reason.​
​
There are ten knockouts provided for circuit breakers on the cover panel (Load Center only). These knockouts are removed predicated on the amount of circuit breakers that are required for the IntelliCenter installation (not applicable for Power Centers).​
​
The High Voltage Cover Panel is secured at the bottom by three tabs and secured at the top by two ¼" retaining hex-screws.​
​
WARNING: Electrical power should always be removed (breaker switched off at the house main circuit breaker panel that feeds the IntelliCenter Load/Power Center), prior to removing the High Voltage Cover Panel for any reason. Consult with a licensed and qualified swimming pool electrician if you are not qualified in these procedures.​
​
​
Last edited: