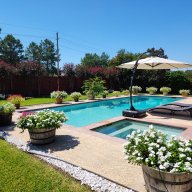 May 27, 2019
1,614
Pool Size

25000
Surface

Plaster
Chlorine

Salt Water Generator
SWG Type

Hayward Aqua Rite Pro (T-15)
My thumb fingers first wrote "sick method"
Anyway. I have an extremely fine hand skimmer. The mesh is setup to collect tiny bugs or other fine particles from the surface.
I've been using this instead of a sock for a while, hanging out in front of my waterfall.
New idea: I have the old Polaris pool cleaner setup. I use it for chemical dispersal. Hmm. Hang the CYA in front of the Polaris water stream. Genius!