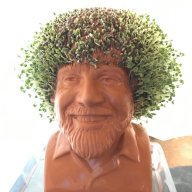 TFP Expert
Platinum Supporter
May 23, 2015
18,592
Pool Size

16000
Surface

Plaster
Chlorine

Salt Water Generator
SWG Type

Pentair Intellichlor IC-60
Well, I think we've reached the "hospice care" stage of SWG ownership. After 8 years of trouble-free use (generating chlorine from early March until mid-December every year), I think my IC-40 is on the way out. About 1-1/2 months ago I got a CLEAN CELL warning on my ET panel with a flashing green CELL light on the unit. My IC had been "spitting snowflakes" for the past season and when I pulled the cell, it was completely plugged up with scale. I cleaned it out using a combination of high pressure hose water, cleaning vinegar and then a long thin plastic scrapping tool to get between the blades. I got it mostly cleaned out, reinstalled and it went right to work but I will say the blades did not look healthy. I think the catalyst coating is mostly gone and the titanium plates are more exposed. Well, fast forward to yesterday and the CELL light was blinking again. I'm sure I'll see it plugged again. My water chemistry is always slightly negative in CSI but I think my high calcium levels and known sulfate issues have finally caught up to my cell. My pool will need a good, hard drain and refill to correct the calcium and sulfate imbalance.
So, until I can get to cleaning it, I'm currently a "jug-dumper" now
manually chlorinating really sucks ...
I guess my biggest question is this - buy a new cell immediately and DIY install (probably an IC60) to get back to good life of not having to scouring the lands for liquid chlorine supplies OR try to find an installer to get a new IC in place so I can get the full 12 month warranty out of Pentair?? Tough call because this is literally the easiest component on my pool pad to replace BUT I'd hate to have a failure at 6 months and then have Pentair say, "Sorry, it wasn't installed by a Pro so no dice".
Current IC60 prices are approximately in the range of $1,100 online ...