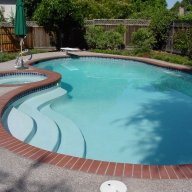 TFP Expert
LifeTime Supporter
May 3, 2007
15,574
Pool Size

20000
Surface

Plaster
Chlorine

Salt Water Generator
Edit - Before reading this article, you may want to first familiarize yourself with this Pool School article on Pump Basics
Hydraulics 101 - Hydraulics, Pipes and Filters
When building my pool, I did a significant amount of research on swimming pool plumbing and water hydraulics. I also found that there appeared to be a serious lack of understanding in the pool industry of exactly how pumps and plumbing interact. So I attempted to compile all of the information that I have gathered over the years and present it here. Most of what I learned about pumps and hydraulics comes from Joe Evans and his web site Pump Ed 101 and I encourage everyone to read his articles which are very informative.
Hydraulic Head
In fluid dynamics, head is a concept that relates the energy in an incompressible fluid to the height of an equivalent static column of that fluid. From Bernoulli's Principle, the total energy at a given point in a fluid is the energy associated with the movement of the fluid, plus energy from pressure in the fluid, plus energy from the height of the fluid relative to an arbitrary datum. Head is expressed in units of height such as meters or feet. - Wikipedia
Hydraulic Head is a term that originated in the water distribution industry and relates to the "head" or top of the water level. It is also another way of expressing the amount of pressure (PSI) lost or gained in a plumbing system. For example, a pool pump adds head or pressure to the plumbing system while the friction loss in piping and equipment removes head or decreases pressure in system. In addition, there are two basic types of head loss and gain in any plumbing system; Static Head and Dynamic Head.
Static head is the net elevation change of the water which can be either positive or negative and is directly related to the height of the water. So water moving from a higher elevation to a lower elevation has head gain while water moving from a lower elevation to a higher elevation has head loss. For example, in a pool solar system installed on a roof and where the panels/pipes are primed and completely filled with water, there is static head loss when the water rises to the roof but then there is also static head gain when the water falls back to the ground. The static head loss on the way up is directly offset by the static head gain on the way down so there is no net static head change due to the fact that the solar is installed on the roof. However, there can be temporary static head loss or gain during the priming process where there is head loss due to the elevation lift but since the return pipe is not yet full of water, there is no static head gain to offset it.
The second component of head is dynamic head loss which is due to the friction loss of water inside of pipes, fittings and other equipment. As water travels through a pipe, the friction against the internal structures reduces pressure. A pool's plumbing system will experience dynamic head loss on both the suction side of the pump and return side of the pump since water is moving through plumbing on both sides. The faster water moves through a pipe, the more head loss. A pool pump adds dynamic head gain to the plumbing system so as to create positive pressure and thus water flow through the pipes. The dynamic head loss in the pipes then reduces the pressure until the water returns to the pool where the pressure is once again at 0 PSI.
In summary, pumps and elevation drops add head to a plumbing system while elevation rises, pipes, fittings, valves, filter, heaters, etc. subtract head from a system. For a swimming pool, the total head loss is always equal to the pump's head gain since the water is returned to the same atmospheric pressure as where it came from.
Water Velocity
There are three reasons to be concerned about water velocity in plumbing:
High water velocity can result in high head loss.
High water velocity in suction lines and main drains can increase the risk of entrapment.
High water velocity can also increase the risk of hydraulic shock (water hammer) which can cause damage to plumbing weld joints.
To address these issues, you will sometimes see web sites quote recommended maximum flow rates in piping usually in the range of 5 ft/sec to 10 ft/sec for PVC piping. However, it is important to understand that these are only recommendations and not hard limits. In other words, if you can find a big enough pump, the flow rate can and will exceed these velocity recommendations. There is no fundamental limit to how fast water will travel in pipe.
Increasing the pipe size in plumbing will usually result in lower head loss but there are diminishing returns because the pipe is only part of the total head loss. Filters, heaters, valves and return eyeballs all contribute to the total head loss of the plumbing. In general, it is a good idea to go with at least 2" plumbing in a pool system and ideally using 2.5" to add some efficiency. For spa jets which require high flow rates, 2.5" should be considered the minimum with 3" pipe providing better flow rates for the jets.
Issues of entrapment are addressed by the Virginia Graeme Baker Act and the ANSI/APSP-7 standard which state that for residential pools, the water velocity should not exceed 6 ft/sec in the piping within 3 feet of a suction port and 8 ft/sec in the line going back to the pool. This is easily accomplished with large piping which should be done to limit head loss anyway.
As for water hammer, high flow rates in plumbing have the potential to damage plumbing should a valve close suddenly. Repeated stress cycling of PVC pipe will eventually cause failures and the cycles to failure is directly dependent on the average pressure of the pipe and amplitude of surge pressure in the pipe. Several charts are shown in a Uni-Bell paper indicate that most failures occur at very high pressures or large cycle times. Fortunately, failures due to water hammer are fairly rare events in pool plumbing so there is not too much to worry about.
Pipe Sizing
Choosing the correct pipe size is very important for high efficiency plumbing. Ideally, it is best to keep suction pipe velocity below 6 ft/sec and return pipe velocity below 8 ft/sec. This helps prevent suction side issues such as entrapment and air leaks. Also, it is a good idea to have a separate suction line from each skimmer and/or main drain pair from the pool all the way to the pump so that one can isolate suction lines if necessary.
The water velocity in a pipe is determined by the size of the pipe and the flow rate going through the pipe. Below is a table of common pipe sizes and the recommended flow rates for three different velocity specifications.
Another way to reduce water velocity in pipes while maintaining high flow rates is to use multiple parallel pipes. The table below shows the equivalent diameter of pipe for multiple pipes of another diameter and equal lengths. N is the number of pipes from 1 to 10 and across the top is the diameter of each pipe. The values within the table are the equivalent diameter for a single pipe.
Filter Sizing
There are three basic types of pool filters each with pros and cons; Cartridge, Sand and DE. Which filter is best for you depends on several factors:
Cartridge Filters: Most energy efficient and don't require back-washing. Best suited for areas with water restriction, high electrical rates and/or pools that use a SWG.
Sand Filters: Easiest for algae clean up. Best suited for areas where the pool is closed for the winter and/or high algae potential.
DE Filters: Best filtration. Best suited for owners that really want their water to be as clean as possible.
As for sizing the filter, the following table is derived from the APSP-15 and ANSI/NSF 50 Specifications and shows the minimum recommended filter size based upon the specifications maximum GPM/Sq-Ft for each filter type. These requirements are shown in the
APSP-15 standard
and are now being adopted as regulations by many states for both public and residential pools.
In some cases, the minimum filter size will be dictated by the pump maximum flow rate rather than the pool size so BOTH must be taken into account. The filter sizes are determined from a 6 hour turnover so even if an 8 hour turnover is targeted, the filter sizes would still be appropriate and have an extra 25% margin. Also, for cartridge and DE filters, increasing the size of the filter beyond what is shown in the table is generally a good idea and will minimize the number of cleanings per season and minimize cleaning damage.
Filter Head Loss
One thing to consider when choosing a filter is that filter head loss can vary by quite a bit depending on the type and size of the filter. In general, a cartridge filter will have the lowest head loss of any filter mainly because they typically lack a backwash valve which can add quite a bit of head loss. In addition, small sand filters can be high in head loss because of the smaller media surface area. Below is a table of different filter configurations with their associated head loss.
Check Valves
Choosing the wrong check valve for your system can have a drastic effects. Try to avoid the hardware store variety check valve that use a large spring loaded plug. This type of check valve has very large head loss and can create major problems for solar installations as well as for general use. This type of check valve usually looks like This:
A better type of check valve uses a flapper mechanism instead of a large spring. This type of check valve looks like this:
The best type of check valve and one with the lowest head loss is made by Jandy and looks like this: